Report: US spent $6.8m on destroyed vehicles in Afghanistan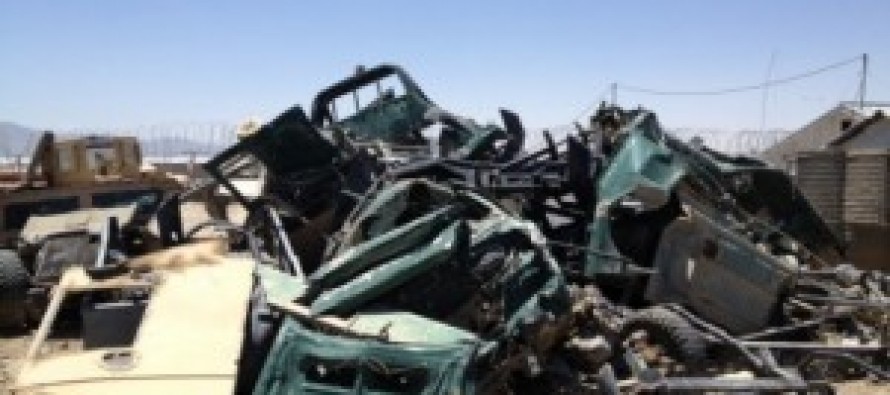 By Hayes Brown-A new report from the Special Inspector General for Afghanistan Reconstruction (SIGAR) reveals that the United States spent over $6 million on maintaining vehicles that had already been destroyed in Afghanistan.
As part of the mission to train the Afghan National Security Forces, the Combined Security Transition Command–Afghanistan (CSTC-A) is charged with helping to equip the soldiers and set up a native Afghan logistics system. According to the report, the CTC-A signed a contract with the Automotive Management Services FZE (AMS) to provide maintenance for a fleet of ground vehicles for the Afghans, along with spare parts procurement and other mundane tasks associated with fighting in a war zone. The contract itself was for over $350 million dollars, with an additional authority to purchase up to thirty million dollars more worth of spare parts.
However, due to a lack of updates on when vehicles in that fleet were destroyed or no longer serviceable — and the inflexible nature of the contract — over the course of seventeen months, the U.S. paid $6.8 million for several unneeded "surges" in vehicles eligible for repair.
This amount includes payments to AMS totaling $6.3 million in five surges from April 2011 to September 2012. According to CSTC-A officials, the density list was based on the number of vehicles purchased for the ANP, but CSTC-A did not remove vehicles not seen for service in over a year or those vehicles confirmed by the contractor as destroyed. In addition to surge payments, we estimate CSTC-A spent at least another $530,000 on such vehicles during option year 1, and CSTC-A may pay more than necessary for future services.
The report is just the latest in a string of reports from the SIGAR that shine light on wasteful spending and unneeded delays in improving security measures in Afghanistan. In December alone, red flags were raised surrounding an inability to track cash flows out of Afghanistan traveling with "very important persons," electronics valued at $12.8 million sitting in a warehouse with no plan for installation, and no accounting for $201 million worth of fuel purchased to support the Afghan National Army.
Time to correct these many issues is on the decline, as the U.S. readies to end combat operations in 2014. NATO members are still in discussion about the size of the force to be left behind after that period, with the White House having floated a "zero option" ahead of a visit from Afghan President Hamid Karzai.
Secretary of Defense Leon Panetta is currently travelling throughout Europe discussing these matters with key NATO allies.
---
Related Articles
The Afghan-German Cooperation handed over newly constructed and rehabilitated rooms as well as equipment to three girls' schools in Baghlan
On 07 January, the Ministry of Commerce and Industries, Government of Islamic Republic of Afghanistan and the Ministry of Textiles
A USD 50 million grant, to finance to the Government of Afghanistan's efforts for promoting economic growth and fiscal sustainability,