Resolute Support updates its Contracting in Afghanistan Guidelines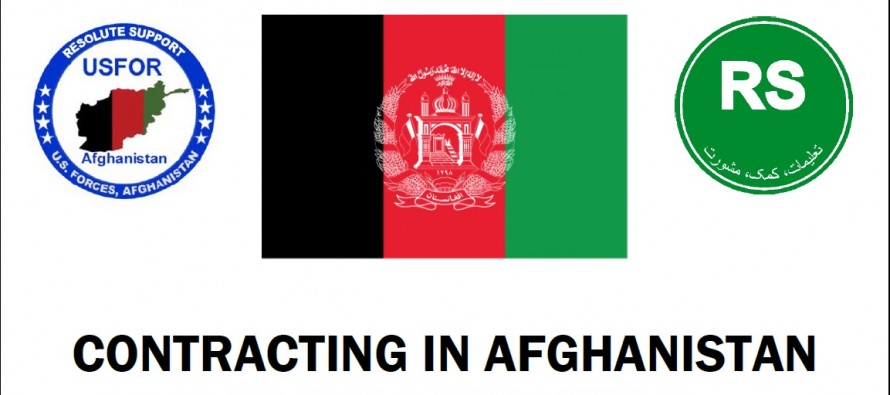 New FAQ for military contractors. Resolute Support has issued a new version of its Contracting in Afghanistan BSA/SOFA Guidelines, available here. More information about licensing, visas, weapons permits and taxes is available here, with supporting documents here.
Business license renewal options. For non-Afghan companies that are being assessed "legacy Business Receipts Taxes, Income Taxes, Dividend Taxes or Subcontractor Taxes", Resolute Support has issued two notices (available here and here), with instructions for obtaining a License Renewal Letter (not a Tax Clearance Letter) from the Ministry of Finance (MOF) to renew expired AISA business licenses. The Minister of Finance has also issued an Executive Order regarding this matter.
Change in subcontract tax exemption confirmation process. Previously, non-Afghan subcontractors were required to provide a copy of their prime contractor's Tax Exemption Confirmation (TEC) as well as a Request Letter from their prime contractor. The process for non-Afghan subcontractors has now changed to match the process for primes: there no need to wait for the prime's TEC and the subcontractor is now to obtain a Request Letter directly from the DOD or NATO Contracting Officer (KO), which is then authenticated through Resolute Support before submission to the MOF, along with a copy of the subcontract and a Cover Letter. Pre & Post BSA TEC KO Request Letter templates are available here.
New Tax Administration Law currently in effect. A new Tax Administration Law was passed 18 Nov 2015 which contains a number of sweeping provisions regarding tax audit and tax enforcement. In particular, the Case Management Department is currently sending taxpayers directly to the Tax Enforcement Department for any minor delays in monthly, quarterly or annual tax requirements. In the past, only the Tax Audit Department would refer cases to the Tax Enforcement Department, and only after severe non-compliance. A copy of the new law is available here and our comments are available here.
Draft new income tax law out for comments. A draft new Income Tax Law (which is not to be confused with the above Tax Administration Law) is out for public comment. A copy of the draft law is available here and our comments are available here.
Changes to Afghan visa procedures. The Ministry of Interior (MOI) is now requiring No Objection Letters from the previous employer before a new employer can renew an individual's visa in Afghanistan. The Ministry of Foreign Affairs (MOFA) is now requiring Letters of Authorization from DOD or NATO before issuing invitation letters for new visas. The process for obtaining entry stamps for individuals arriving on military flights continues to be challenging, with immigration officers not present at the time and not willing to stamp passports upon presentation later. Renewal visas or exit visas are not provided without an entry stamp, and entry stamps are not provided without visas. More information about Afghan visas is available here.
Weapon permits for military contractors. The MOI had previously suspended issuance of the 1 year weapon permit cards for military contractors following some changes in procedure. Now, the MOI has started issuing temporary weapon permit letters (not cards) that are valid for 1 month only, following the same process as before.
About the Afghanistan Holding Group
Afghanistan Holding Group provides inter-related professional business services:
Financial Services. AHG provides premier taxation, accounting and auditing services in Afghanistan. Taxation services include monthly, quarterly and annual filings, as well as tax audit and enforcement representation. Accounting services include payroll administration, financial management systems installation, setup, maintenance and support. Auditing services include internal and external financial reviews and audits, due diligence and forensic audits.
Research Services. AHG provides a holistic approach to research and project monitoring. AHG combines trained local staff and cutting edge technology to ensure accurate, timely, and reliable data collection and analysis across all 34 provinces of Afghanistan. Our research team is composed of top Afghan and international experts with in-depth monitoring and evaluation knowledge, and a keen understanding of, and experience with, Afghanistan's specific challenges.
Technology Services. AHG provides affordable, intuitive, adaptable, easy to use, business management software customized specifically for your organization. Our off-the-shelf product options include setup and support for Intuit QuickBooks and SAP Business One. Our custom product options include Hesab HRM for timesheets, leave management, payroll calculations, paystub distribution and performance management, as well as the Hesab App for a simple English, Dari and Pashtu payment portal that automatically prepares all Afghan tax forms.
Compliance Services. AHG offers support with new business registration, work permits, visa services, sector-specific licensing and permits, contract review and labor law questions in Afghanistan. By leveraging a wealth of experience working across numerous Afghan ministries, a wide variety of sectors and organizational legal structures, AHG is able to effectively navigate compliance matters to let clients focus on their core missions.
---
---
Related Articles
A day-long national conference was held in Kabul by the Afghanistan Chamber of Commerce and Industry (ACCI) to evaluate challenges
Baghlan fruits have lost their values in the market, as distance from the market and damaged roads have affected the
Afghanistan has got presidency of the Economic Cooperation Organization Chamber of Commerce and Industry(ECO-CCI). Iran secured the vice-presidential slot, while