Road shows help Afghan poultry sector find new investors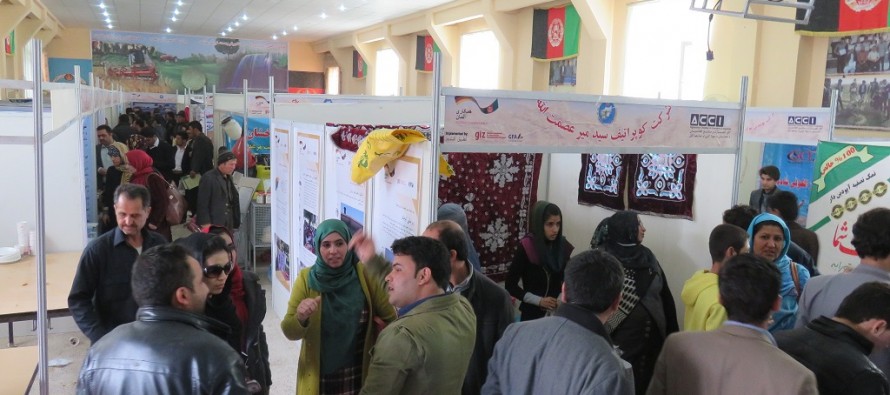 The Balkh Chamber of Commerce and Industries held a series of poultry road shows in the past week in Mazar-e Sharif that let farmers and producers exhibit their produce and machinery and help attract new investors.
Financial and technical assistance for the exhibitions came from the German government, as part of its various measures to help Afghan farmers, manufacturers, cooperatives and traders of poultry products increase their incomes. Apart from road shows, Afghan German cooperation provides funding for modernizing facilities, training and dialogue forums.
The German program for promoting Sustainable Economic Development and Employment (SEDEP) at the road shows exhibited new model poultry houses and shop designs. Participants could find out more about new and hygienic slaughtering methods for chicken in new slaughterhouses with adjoining poultry outlets.
Islamuddin Amaki, director of the Directorate of Agriculture, Irrigation & Livestock (DAIL) in Mazar-e Sharif, said during the road show that the Afghan government recognized the importance of the agricultural sector. "We need to improve our local products and then promote them accordingly to develop Afghanistan's economy."
The poultry sector in Afghanistan faces various challenges. As farmers cannot respond to the high level in local demand, most chickens and poultry products are imported and of low quality. To meet the demand, local farmers need modern facilities, such as breeder farms, slaughterhouses and hatcheries as well as training. Both farmers and producers also need opportunities to showcase the quality of their produce to potential investors and wholesale customers.
Last month also saw the opening of two modernized poultry slaughterhouses with adjoining sales units in Aybak, the capital of Samangan. With modern facilities, farmers can improve the quality of their poultry, helping to gain a competitive advantage.
The new modern design of the sales areas in combination with better hygiene standards is already attracting new customers, leading to an increase in the shops' revenues and creating new jobs.
German support for poultry farmers in northern Afghanistan also includes training to teach them modern farming techniques. At a recent workshop on poultry sanitation for 100 farmers in Balkh, participants learned about basic farm hygiene and how to cut deaths among young chickens. With funding from the German Ministry for Economic Cooperation and Development (BMZ), Afghan-German Cooperation has planned a further nine workshops for farmers.
Poultry is one of five products Germany supports through its program for sustainable economic development and employment promotion (SEDEP). The measures aim at improving value chains for poultry and dairy products, wheat, almonds and horticulture in Afghanistan. Apart from training and infrastructure development initiatives, the German government also helps establish dialogues between public and private sector actors. Farmers and government can address concerns and draft policy recommendations to improve economic opportunities.
---
---
Related Articles
Afghans have started war against Pakistan on social media by campaigning to boycott their products and currency. This comes after
Afghan President Ashraf Ghani , Pakistani Prime Minister Nawaz Sharif , Indian vice president Hamid Ansari and their host Turkmenistan
With a cost of more than 27,283,000Afs 17 sub-projects of the National Solidarity Program (NSP) of the Ministry of Rural