Roadside barbers in Kabul City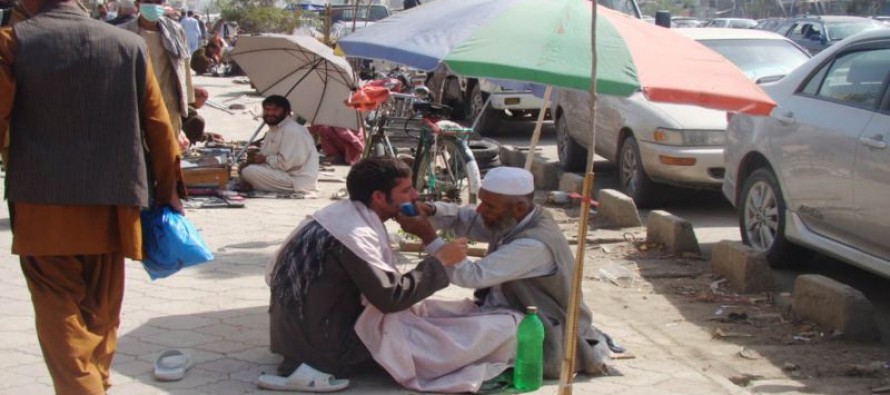 Walking down the sidewalks in Pul-e-Khishti, Sar Chowk and Jada, you notice a line of men sitting under an umbrella cutting hair or shaving beard.
Armed with a pair of scissors and a plastic comb, these are Kabul City's roadside barbers who operate from morning to dusk and provide service to the poor who cannot afford fancy hair salons.
Snip snip snip……..
A barber deep in concentration on his work was asked, "Are the blades and strops for cutting and shaving hygienically clean and safe?" The response was, "No, how can you expect that from a barber on a footpath? We cannot afford it!"
One of the customers was asked why he chooses to come here for haircut.
"Roadside barbers charge 20-30 AFN, while salons charge 50-100 AFN, which we cannot afford to pay. We are aware that the instruments they use are not clean."
Meanwhile, Minister of Public Health says that these roadside services are the carriers of several transmitting diseases like HIV-AIDS.
Sultan Mohammad Dawran, Head of Environmental Protection, called on Kabul's municipality to prevent the activities of roadside barbering.
"Barbers providing services on the footpaths do not have legal licenses. Ministry of Public Health has called on security entities to remove these individuals from roadsides. Interior Ministry and Kabul's Municipality should halt their activities."
The Municipality of Kabul has reported of their preparations to stop roadside barbers.
"We are ready to assist Ministry of Public Health in stopping the activities of roadside barbers and preventing spread of transmitting diseases. And, we shall provide the Ministry with proper facilities for this task," said Nisar Ahmad Habibi Ghori, Kabul Municipality's cleaning head.
A number of citizens had taken their complaints to the municipality for this regard and criticize the municipality for their failure in stopping these barbers.
---
Related Articles
Afghanistan is going to have its first ever power plant that is set to be built in Mazar-e-Sharif, capital of
A number of Kabul dwellers complained about lack of recreational parks for families. As the spring season is drawing near,
The Government of Japan has approved a $3 million grant to Afghanistan for a project which will improve the country's