"Roses for Nangarhar" – an alternative to poppy cultivation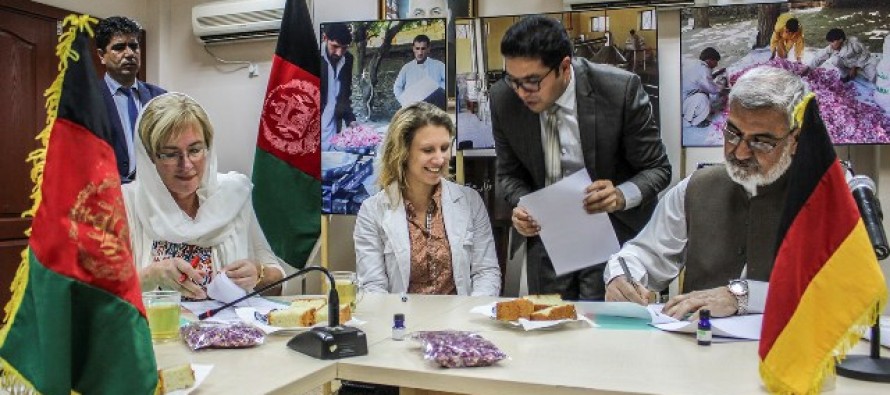 The "Roses for Nangarhar" development project was officially handed over to an Afghan company, Afghan Roses Ltd, on 16 June 2015.
At today's ceremony in the Afghan Ministry of Rural Rehabilitation & Development (MRRD), a memorandum of understanding was signed with the goal of transferring the project from public to private Afghan ownership.
As one of Germany's most successful projects in its development cooperation with Afghanistan, "Roses for Nangarhar" showed great potential in promoting exports of Afghan rose oil, keeping and creating jobs and generating a legal income for the rural population.
"Rose oil is very valuable; a one-litre bottle is worth more than US$5000. As an export item, it is highly feasible and demand is high. Today's ceremony marks the completion of a German-Afghan development project and the start of an economically successful and socially responsible enterprise nurturing Afghan-German trade relations," said Ms. Nicole A. Hofmann, Deputy Head of Development Cooperation from the German Embassy in Kabul.
Minister Nasir Ahmad Durrani of the MRRD said, "This is a successful project that embodies the vision of the new government – support to agricultural production, development of private enterprise, commercial linkages to the domestic and international markets, and an increase in income to the farmers working in the fields."
Representatives from Deutsche Gesellschaft für Internationale Zusammenarbeit (GIZ) GmbH and Welthungerhilfe joined Minister Durrani and Hofmann at the signing ceremony.
"Roses for Nangarhar" started in 2004 as part of a cooperation program with the MRRD funded by the European Union. Between 2009 and 2013 it received direct support from the German government, with GIZ and Welthungerhilfe responsible for managing the project.
Cultivation of roses can guarantee farmers a stable long-term source of income. The aim was to provide former poppy farmers with an alternative to cultivating drugs illegally, in this case, by growing roses. Rose production was chosen as a potential alternative to growing poppy due to the fact that roses are a raw product for the distillation to rose oil, a high quality niche product.
After processing the flowers into organic rose oil, the product can be sold on the international market. Today, instead of opium poppies, some 800 farmers grow roses for oil on 105 hectares of farmland in the Nangarhar highlands. Total production in the region has risen from 1.7 kgs in 2006 to 101 kgs in 2014.
The project is now at a stage where it can be transferred to private Afghan ownership. Following a strict and transparent selection process, Afghan Rose Ltd. was chosen to take over the distilling factory outside Jalalabad. Through sustainable processing and marketing of rose products, the company has the possibility to grow in the future.
---
---
Related Articles
The assistance was handed over to Afghan State Minister for Disaster Management Ghulam Bahaudin Jailani by Chinese Ambassador to Afghanistan
The first Business Legal Service Center, called Qaed Legal Services, was inaugurated on Thursday in Herat city in presence of
According to the Afghan Raisins, Fruits and Vegetables Export Promotion Agency, exports of Afghan dried fruits have decreased by 200