Roshan to sponsor Afghanistan's top football league for another 3 years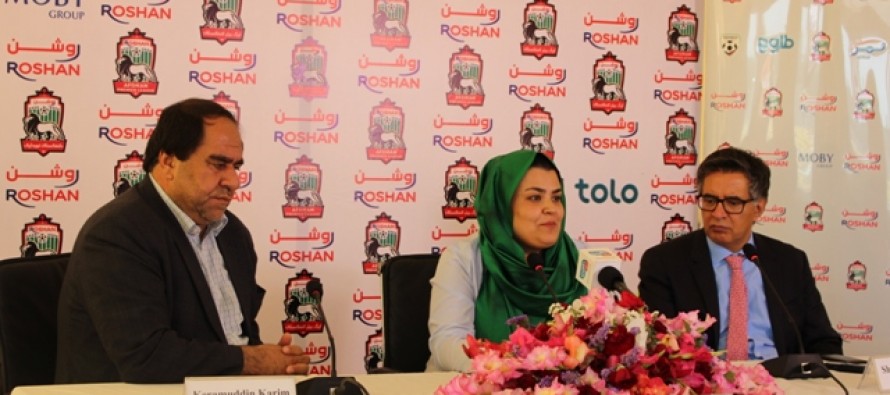 Roshan will remain the title sponsor of the Roshan Afghan Premier League for the next three years.
This announcement was made by the telecommunication company Roshan, the Afghanistan Football Federation (AFF), and Afghan Media conglomerate Moby on Thursday.
"As the leading communications company of Afghanistan, we are proud that our sponsorship of the Roshan Afghan Premier League (RAPL) has brought together Afghans of various backgrounds to cheer for national pride and unity. And as a social enterprise, we take immense pride in the fact that Roshan's sponsorship has helped RAPL become the main recruitment venue for young Afghans across the nation to compete for the love of football and for representing Afghanistan with pride at home and beyond," said Karim Khoja, CEO of Roshan.
"Extending Roshan's sponsorship for another three years highlights our sustained commitment to the development of Afghanistan, to creating more opportunities for Afghan youth who make up the majority of the population, and to keeping this beautiful nation moving forward as a force in the world of sports and beyond."
"The AFF is extremely excited about Roshan remaining the title sponsor of the RAPL. Roshan Telecommunication company showed that they are not only focusing on serving the community through networking services, they are also connecting people in different aspects, and supporting the biggest form of entertainment in Afghanistan. Together we will continue to foster unity for all Afghan people through Football in our beloved country," said Keramuddin Karim, President of AFF.
"The continuation of our strong partnership with Roshan is key to the ongoing success and development of the RAPL, and once again demonstrates the enthusiasm for football and sport in Afghanistan. We are grateful to Roshan for their unwavering support, and through it we will continue to spread the messages of peace, unity, and the promotion of a healthy lifestyle through football," said Shafic Gawhari, CEO of MOBY GROUP Afghanistan and RAPL Commissioner.
Football in Afghanistan has witnessed a considerable growth over the years since the Taliban were ousted.
Afghanistan formed its first Premier League in 2012, where 8 teams drawn from eight zones across the country play against each other.
Ranked 134th in the FIFA World ranking, Afghanistan brought home the first international championship cup after defeating India in the 2013 South Asian Football Federation championship match.
---
---
Related Articles
Constant rains in Ghazni province have hurt grapes production in the province. Grape growers in Qara Baghi region at the
The United Arab Emirates (UAE) Ambassador to Kabul, Yousuf Saif Seba Al Ali, met with President Ashraf Ghani today in
A newly established power sub-station has enabled 102 factories to resume production  at the Ali Sher Nawai industrial park in