Saffron production spreads from 20 to 26 provinces across Afghanistan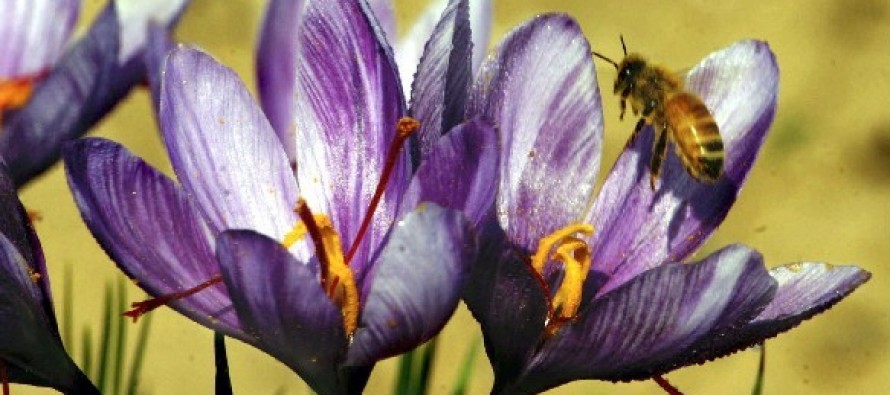 Ministry of Agriculture officials have reported that saffron production has spread from 20 provinces to 26 provinces in the past year.
Given the lucrative business of the expensive spice in the market, more Afghan farmers are turning into saffron production.
Agriculture Minister Mohammad Asif Rahimi said more than 4,000 kg of saffron has been exported to foreign countries this year, with each kilogram selling for between USD 5,000-USD 6,000.
In an attempt to encourage farmers to cultivate saffron, the ministry provided the farmers with corms — bulb storage organ of the saffron flower–and provides training facilities and developing methods.
Last year, Afghanistan's saffron secured the first position among 16 other countries in terms of quality at an international exhibition. In June 2013, Afghan Saffron Company, a processing company, received the first place in the world for producing quality saffron from the International Taste and Quality Institute (iTQi).
The spice is certainly a lucrative business to the farmers and given its ability to be grown in a dry environment,  it may be a viable alternative for the poppy cultivation in the country.
The plant is drought resistant and only needs irrigation twice or three times a year, compared to poppy plants irrigated six times a year. Another advantage is that growing saffron is legal in Islam, unlike poppy that is prohibited.
It is normally cultivated in summer and collected in the last month of fall. It is used in making medicines, adding flavor to food, appetizers, and hot drinks and making perfume. It grows best in areas with light winter weather and dry, hot summers.
Saffron is yet to emerge as a major alternative to poppy cultivation in Afghanistan due to the presence of international drug lords, who control the lucrative drug commerce.
---
---
Related Articles
Afghan saffron once again wins the the number rank in the world for its taste among dozens of countries. The
Da Afghanistan Breshna Sherkat and the Asian Development Bank signed a contract for the transmission of 300 megawatt electricity line
Da Afghanistan Bank (DAB), Afghanistan' central bank, rejects reports by the Special Inspector General for Afghanistan Reconstruction (SIGAR) that has