Salary payments through mobile phones now available to government employees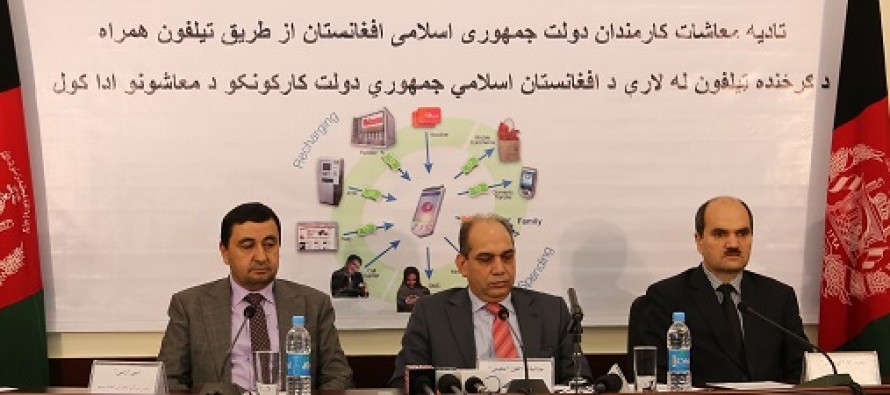 According to the Ministry of Finance, government employees can now receive their salaries through mobile phones.
New Kabul Bank, Maiwand Bank and the Ministry of Finance have developed a mobile money platform and integrated it with the Afghan Wireless Communication Company (AWCC) with the support of United States' Agency for International Development (USAID). According to the ministry, the reason for the establishment of this move is to make mobile payment an alternative to cash in order to prevent corruption and improve governance by undercutting financial threats to security.
Mr. Mohammad Aqa Kohistani, the Director General for Treasury of the Finance ministry  had this to say about the process: "Paying salary to government employees in districts and villages is a big challenge for the government. The directorate was struggling to find a reasonable solution for it. Fortunately with support of USAID we could suggest to integrate the New Kabul Bank and Maiwand Bank system with Afghan Wireless Company in a proper and secure way. This is the pilot project that started from the treasury department of the Ministry of Finance. This will be expanded to all government organization and to all rural areas of the country."
The Ministry of Finance currently has contracts with four commercial banks (New Kabul Bank, Azizi Bank, Maiwand Bank and Bakhtar Bank) for maintaining employee bank accounts to which salaries are transferred. Out of about 800,000 serving government employees, almost 520,000 are receiving their salaries and benefits through the banking channels.
Amin Ramin, the Managing Director of AWCC explained the process in detail and said that the mobile money has yet to achieve sustainable scale in Afghanistan, but it shows much potential.
Mr. Haris Hashimi the project manager for the "My Money" project then delivered a presentation to explain the speed, security and ways of using the system.
---
Related Articles
The World Bank in its latest report has reflected on the achievements that Afghanistan has witnessed in the areas of
A coal processing factory with a capacity of processing 50 tons of coal in 24 hours will be opened soon
The Afghan government has decided to issue visa-on-arrival for foreign investors and business people at the Hamid Karzai International Airport