Samangan local radio and TV goes "on air" in brand new studio financed by Germany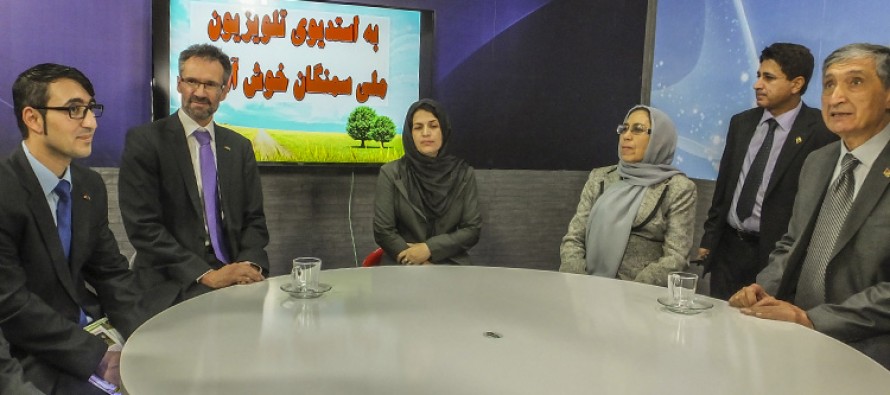 Samangan National Radio TV opened its new studio built with technical and financial assistance from the German government's programs for Regional Capacity Development (RCD) in northern Afghanistan.
The newly equipped station will broadcast a wide range of programs for the population of Samangan and will inform local communities about what is going on in the districts and province. The studio is now furnished with professional equipment that Radio-Television Afghanistan (RTA) in Samangan can use for its broadcasting.
Besides the new studio, 14 staff members of RTA received six months of training in reporting, recording and editing. The combination of measures now allows RTA Samangan to record and broadcast professional programs and serve the public interest.
Speaking at the inauguration ceremony, Dr. Martin Schuldes, German Development Commissioner in Afghanistan, underlined that "Access to information and professional media coverage is key to enabling people to develop well-informed opinions." In addition, Schuldes reassured that Germany will continue to be a reliable partner of the Afghan people, stressing that "A secure environment and the political will of key decision-makers in Afghanistan to work for the common good are crucial preconditions for development cooperation activities to be successful."
Mohammad Hashim Zareh, Samangan's Provincial Governor thanked the German government for its comprehensive cooperation with the government of Afghanistan, adding that a main achievement in the past 14 years has been freedom of speech and the press. He said, "These new studios for RTA Samangan are one more step ahead toward freedom of speech and will help raise the awareness of the public regarding government achievements, programs and activities for the public." He called on RTA staff to use the studio and equipment properly and also asked the Germany to stay with Afghanistan and continue its cooperation and support based on Germany's experience in the media.
RTA Samangan can now run various media activities and produce and edit a diverse range of daily programs. The station intends to offer regular round-table discussions and exclusive interviews. This will allow them to compete with private broadcasting companies. The significance of the new studio goes beyond entertainment and competition with private operators. The station provides information that can help increase visibility of government decision-making processes and transparency. Thanks to improved local journalism, communities will be better informed. This, in turn, will help voice people's opinions in local politics. RTA can act as a bridge between society and officials, passing on the needs of the people to government representatives and vice versa. In addition to that, young journalists will be able to gain experience in the field, resulting in a higher quality of local journalism. Over time, values such as freedom of expression and media freedom as such might also become more embedded in local communities.
The total cost of construction, equipment and training was about AFN 12 million, paid for by the German government. The project was run in cooperation with Samangan Provincial Development Committee.
As part of Germany's cooperation with Afghanistan, the RCD, which is financed by the German Federal Ministry for Economic Cooperation and Development (BMZ), is implemented by Deutsche Gesellschaft für Internationale Zusammenarbeit (GIZ) GmbH. In six provinces in northern Afghanistan, RCD supports the development priorities of its Afghan partners at the provincial and district level, while at the same time providing training and coaching programs for civil servants. With its broad range of activities, the RCD aims at increasing Afghan ownership of the development process, strengthening state institutions and promoting transparency and inclusiveness.
---
---
Related Articles
Afghanistan Chamber of Commerce and Industries (ACCI) officials are skeptical of the scales installed on the large highways of Afghanistan,
India's manufacturing at factories, mines and utilities rose by 0.1%, which still remains below expectations of growth of 0.3%. The
The Afghan government demanded Pakistan's Commerce Minister Khurram Dastgir during his recent visit to Kabul the inclusion of India in