Sayed Saadat Mansoor Naderi, winner of the peace through commerce award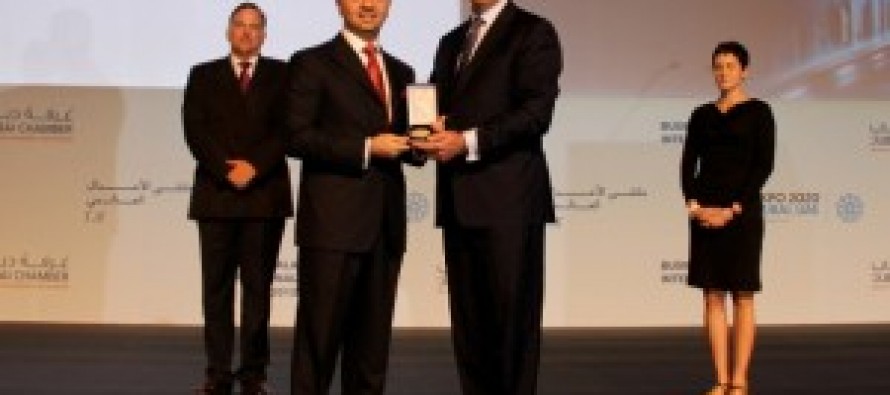 The Afghan entrepreneur, Sayed Saadat Mansoor Naderi, was officially awarded the Peace through Commerce award for 2012 by the United States Department of Commerce in Dubai.
The International Trade Administration's Peace through Commerce medal has recognized eight individuals and organizations that have played a crucial and proactive role in increasing trade and strengthening their countries' overall relations.
The Peace through Commerce Medal dates back to the first Secretary of State, Thomas Jefferson, who commissioned the medal in 1790. Jefferson gifted the medal, formerly known as the Diplomatic Medal, to foreign diplomats who aided the Continental Congress during the American Revolution. The medal is most renowned for its inscription, To Peace and Commerce, centered along the top.
Afghanistan's SMN Investment group, chaired by Sayed Saadat Mansoor Naderi, is among the winners of the four international organizations.
SMN Investments is a privately held group of companies with a major market presence across various economic sectors in Afghanistan since 2000. Among the group's principal capacities are:
Financial Services and Insurance
Fuel Storage and Distribution
Retail FMCG and Wholesale Consumer Warehousing
Professional Services
Transportation and Logistic Services
Construction, Design and Engineering
Automotive
Telecom Services
Mining
General Trading
Manufacturing/Agriculture
SMN has pioneered the insurance industry in Afghanistan and is the only fully licensed private insurance company. The company has secured over $20 Billion in reinsurance commitments from the London market and recently delivered coverage for Aynak Copper Mine ($3.6b investment).
In an exclusive interview with Khaama Press (KP) Syed Sadat Mansoor Naderi said investment and creation of job opportunities is vital for the reduction of war, violence and to maintain stability in the country.
He said, "Investment and creation of job opportunities are effective to reduce violence and expand peace throughout the wartorn countries like Aghanistan. As you are aware over 60% of the Afghan population is comprised of Afghan youths who are in dire need employment opportunites after they complete their education. The youths will unfortunately prefer to participate in war activities if the government and private sector do not pave the way for job opportunities."
Sadat Mansoor Naderi said he was optimistic regarding the 2014 and will expand SMN's investment across the country despite majority of the Afghans are concerned and believe that 2014 will be a period of economic and political crisis for Afghanistan.
In regards to the 2014, Syed Sadat Mansoor Naderi said, "My views regarding 2014 is very optimistic and therefore we are working to expand our investments and will continue to grow in the future as well. For us 2014 is only a date."
The Peace through Commerce winners are:
1. The World Trade Center of New Orleans, Eugene J. Schreiber, Communication Director
2. The American Chamber of Commerce in South China, Harley Seyedin, President
3. American Chamber of Commerce in Singapore
4. SMN Investments, Sayed Sadat Naderi CEO, AFghanistan
5. Global FoodBanking Network (GFN)
6. SC ICCO  Energ SRL
7. American Chamber of Commerce in Japan
8. Werner Escher, Executive Director of Domestic and International Markets, South Coast Plaza
---
---
Related Articles
More than 320 educated youths, including master, bachelor and bachelorette graduates, are jobless in the northern Kunduz province. Of them
The Lapis Lazuli railroad project is slated for inauguration in the next two to three months. The announcement was made
At the Tokyo Conference on Sunday, Canada pledged to continue working with the people of Afghanistan to build a better,