School Officially Opens, Shows Dedication to Education in Arghistan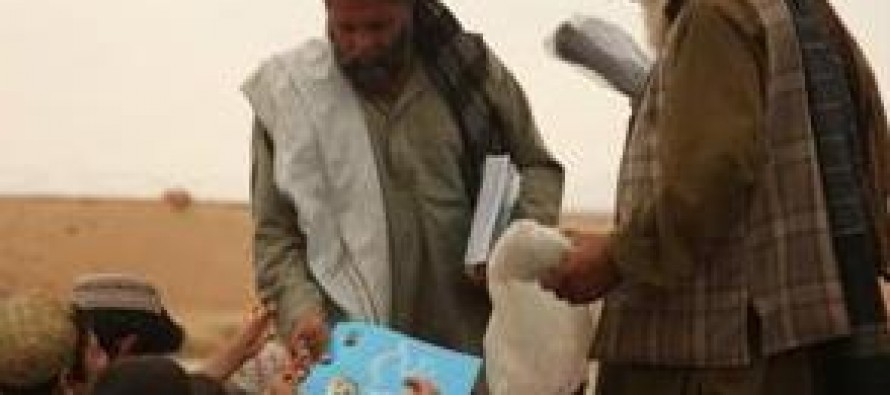 The District Education Representative (DER) Issa Mohammad celebrated the official opening of Amin Kalay School by assisting in the distribution of school supplies to approximately 50 students in Arghistan district, Kandahar province, May 8.
The school was built several years ago but closed due to violence and insurgent intimidation. The opening is a direct result of increased security and support for education initiatives from village elders in the area.
"Six months ago, this school was closed and used as a checkpoint," said Education Representative Mohammad. "Now the building is being used as a school for our students."
Mohammad and District Governor Haji Abdull Ghani worked together for months to clean and refurbish the school.  Mohammad sought out equipment and teachers while Governor Ghani traveled to surrounding areas to garner support from village elders.
The official opening brought the support of several teachers, parents, village elders, and Afghan National Security Forces members who provided security.
Village elders distributed the school supplies, including backpacks, pencils, colored pencils, sharpeners, Pashtu literacy books, and notebooks to eager students organized in rows outside the school building. The students also received shoes and soccer balls for recreational activities.
DER Mohammad set aside extra supplies to give students who were unable to attend. All remaining supplies will be distributed to schools across the district.
DER Mohammad encouraged several young local girls wanting school supplies to return to the school after they were sent away by male villagers, who feared insurgent reprisal. Whether or not girls will be allowed to attend classes is yet to be determined, but they received learning materials nonetheless.
The school's teachers received marker boards, chairs, folding tables, desks and a globe for the classroom. The school also received a nurse's office starter kit consisting of sheets, blankets and basic first aid supplies.
Most of the supplies were donated by UNICEF for distribution through the Government of the Islamic Republic of Afghanistan. District Education Representative Mohammad requested and received the supplies through the Afghan system to give to the people of Arghistan.
"School will keep our children from wasting time in the streets, wrong doings, war and joining the insurgents," said one of the teachers. "Our children will learn something and then later will be employed. Education is like building a foundation for our children. Our children and our people will benefit from this school a lot."
---
---
Related Articles
The NATO-led Resolute Support Mission in Afghanistan had pledged USD 2.7mn for the reconstruction of the Kabul military hospital which
The Angoor Adda trade route between Afghanistan and Pakistan has reopened in the tribal region of South Waziristan a week
The National Solidarity Program (NSP)of the Ministry of Rural Rehabilitation and Development (MRRD) has completed 48 uplift projects in Daikundi