Screening of Inspector Amanullah Khan in Kabul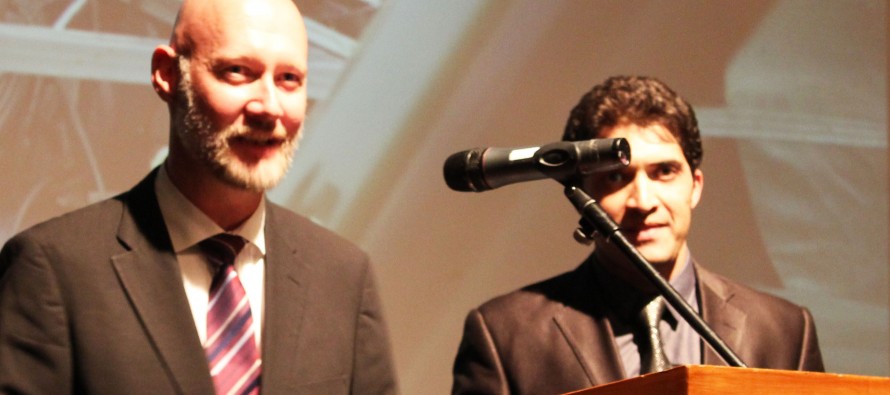 On 21st May 2013 the pilot of Afghan crime series Inspector Amanullah was screened to a high profile audience at the Institut Francais in Kabul. Before the screening the Helena Merks, advisor for legal affairs at the German Embassy in Kabul, Heikki Wendorf, the head of Rule of Law EUPOL and Wolf Plesmann, Portfolio Director of the Deutsche Gesellschaft für Internationale Zusammenarbeit (GIZ) GmbH held speeches lauding the role of the TV program in promoting the work of the Afghan police.
Director and actress Saba Sahar and Emal Zaki, who plays the part of Inspector Amanullah, were invited to join for a question and answer session. The series proved to be a hit on Afghan TV. Inspector Amanullah is an intelligent and personable but also tenacious and effective police detective whose task is to uncover and investigate a whole host of crimes – from family murder to terrorism. It's not an easy job, especially when he faces death threats from powerful local figures and religious leaders while also having to deal with attempts to buy him off with bribes.
The 40-episode police drama was directed by Saba Sahar. It was funded by the German Fed- eral Foreign Ministry (AA) and produced by the Kabul based Saba Film Production Compa- ny (SFPC) in cooperation with the European Union Police Mission (EUPOL) and the Deutsche Gesellschaft für Internationale Zusammenarbeit (GIZ) GmbH. The TV series is proving popular with police officers and prosecutors as well.
A training film with the same name as the series has also been produced using footage from the drama and, since September 2012, is being used in EUPOL's Coordination of Police and Prosecutor Training (CoPP). It's sparking some lively debates among trainees about the role of the police and how to interpret the legal bases for criminal investigation.
---
---
Related Articles
Despite the influx of billions of dollars of foreign aid and development in the country's trade and construction sectors, Afghanistan
Chinese government pledged to extend USD 32.5 million in foreign aid grants to Afghanistan for economic development. This comes after
Afghanistan's Minister of Transport and Aviation, Daud Ali Najfi, said Afghanistan may soon gain a membership to the International Road