Second Annual Afghan Social Media Summit to be held on October 19th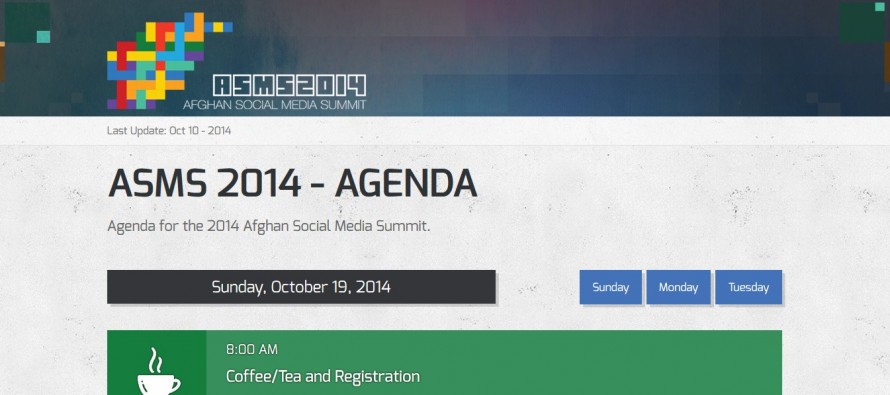 From e-Governance to #Hashtag Activism, Afghan Social Media summit paves the way for a digitized Afghanistan
The second annual Afghan Social Media Summit (ASMS2014) will begin next Sunday, October 19, 2014, and the full agenda is now available online here.
The event is widely anticipated due to the growing interest in social media in Afghanistan, and the impact of social media in the recent presidential elections is testimony to this.
"A large number of Afghans, men and women, now not only use social media platforms as means of communication, but also a reliable source of news and information. Through ASMS2014, we hope to empower Afghan change makers with tools to meet pace with the rest of the world," explains Eileen Guo, the co-founder of Impassion Afghanistan and the Event Curator of ASMS2014.
Participants will have the opportunity to interact, engage and learn from experiences of some of world's successful campaigns that have employed the use of digital media to achieve their goals. Interactive sessions on Hashtag Activism will introduce the participants to how technology, more specifically social media, is being used for advocacy. In another session on online advocacy for women's rights, organizations such as Harrasmap Egypt will share how they've used technology to combat sexual harassment against women.
While ASMS 2014 will conduct workshops on effective use of social media, this year's event will also feature sessions on online advocacy, civic technology, along with more hands on workshops on online privacy by York, as well as and building wireless networks by Matt Stephenson, among others.
Even as Afghanistan enters a new era in technological revolution, the digital world is extremely dynamic and there is a need to bridge the knowledge and infrastructural divide. The three day summit, scheduled from October 19-21 in the capital city of Kabul, aims to level this playing field, allowing participants the benefit of knowledge and experience of experts globally. From Google engineers to Twitter representatives, the summit will feature an array of speakers representing some of the best that the web has to offer.
"While social media allows people to participate in lawmaking, governments too can harness the power of technology for public engagement for their civic campaigns," explains ASMS 2014 speakers Raheel Khursheed, head of News, Politics and Government at Twitter India.
Keeping true to this idea, ASMS 2014 strives to be a platform that will allow representatives and activists from civil rights organisations across the world to share their experiences, knowledge and best practices with the Afghan netizen.
---
---
Related Articles
IFC, a member of the World Bank Group, has helped Afghanistan's Kabul Municipality develop a simpler, more efficient construction permit
Addressing a gathering in Kabul on "Kazakhstan-Afghanistan business-to-business matchmaking", Kazakhstan Ambassador Omirtay Bitimov said businessmen from his country were ready
Ten mining inspectors from the Ministry of Mines and Petroleum (MoMP) received certificates for their successful completion of a two