Second Annual Launch of "Passage to Prosperity: India-Afghanistan Trade and Investment Show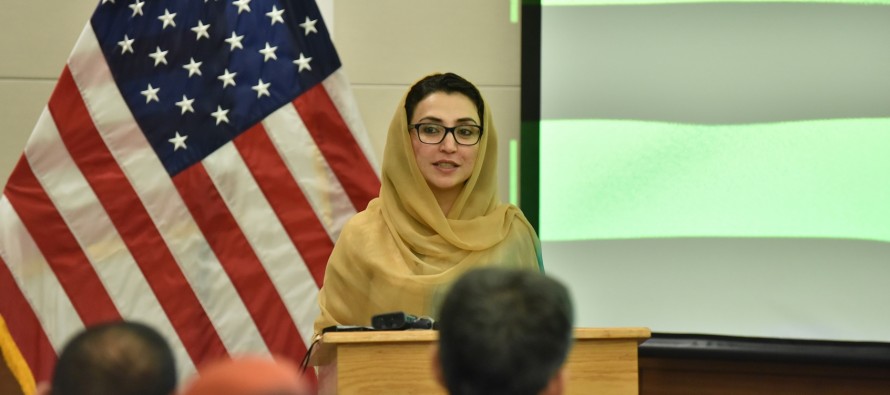 U.S. Ambassador John R. Bass today launched the second annual "Passage to Prosperity:  India-Afghanistan Trade and Investment Show," scheduled to take place in Mumbai September 12-15, 2018.
Organized by the United States Agency for International Development (USAID), today's launch was aimed at stimulating interest in and sharing information about the September event. More than 200 Afghan government officials and business representatives, international donors, NGO partners, members of the diplomatic corps, and foreign mission commercial attachés attended the event.
"In the enduring partnership between the United States and Afghanistan, it is becoming increasingly clear that an outward-looking development strategy with exports at its heart is the path to a more resilient Afghanistan," said Ambassador Bass. "This year's Passage to Prosperity:  India-Afghanistan Trade and Investment Show in Mumbai promises to build on last year's successes by reaching beyond just India," he added.
In his South Asia Strategy, President Trump affirmed his commitment to engaging India as a partner in contributing to Afghanistan's economic stability. This commitment is bearing fruit through Passage to Prosperity, which has grown to encompass ever greater trade relationships with markets beyond India. This will help Afghanistan realize its goal of increasing exports to $2 billion by 2020.
During the September trade and investment show in Mumbai, Afghanistan's finest textiles, carpets, gems, and jewelry will be on display for international buyers. India offers an ideal location for investors to experience the treasures that Afghanistan has to offer. In addition to product sales, this year's show will facilitate partnerships between Afghans and international actors in specialized healthcare, higher education, services, and trade promotion. These partnerships will play an essential role in building economic ties among Afghanistan, India, and other countries.
The USAID-sponsored Passage to Prosperity is an annual event that aims to advance regional integration by strengthening economic and trade ties between Afghanistan and international markets through business-to-business matching and consumer sales. In 2017, USAID supported the first Passage to Prosperity:  India-Afghanistan Trade and Investment Show in New Delhi. More than $27 million in contracts were signed between Indian buyers and Afghan vendors for both raw and processed agricultural products. In addition, a number of Indian buyers and Afghan vendors signed MOUs valued at nearly $214 million during the four-day event, and more than $10 million worth of carpets, gemstones, jewelry, marble, and food-related products were sold. This year's event in Mumbai promises to build on the first show's successes and expand its impact by reaching beyond India.
---
---
Related Articles
The Afghan government is hoping to see fruitful results from the upcoming Sixth Regional Economic Cooperation Conferences for Afghanistan (RECCA
The National Solidarity Program (NSP) of the Ministry of Rural Rehabilitation and Development (MRRD)  has completed 52 utility projects in
President Ashraf Ghani highlighted some major reforms in a meeting with the newly appointed Finance Minister Eklil Hakimi who presented