Six New Schools in Badakhshan Benefit 4,000 Students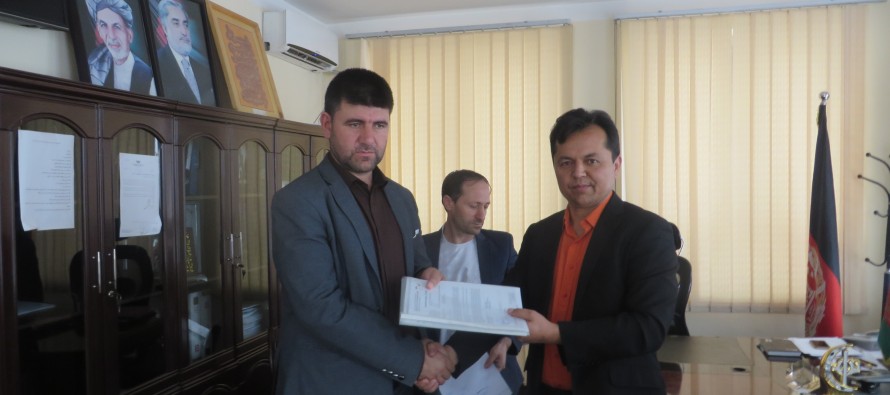 More than 4,000 students will benefit from the implementation of six new schools in Argo, Darayem, Kishem, Tagab, Teshkan and Shahr-e Buzurg districts of Badakhshan province.
Funded by the Afghan-German Cooperation, the schools were handed over to Badakhshan's Provincial Education Department (PED) in a ceremony on Saturday.
The Afghan-German Cooperation supported the PED in implementing the projects and funded the schools' construction at a total cost of about AFN 134 million via KfW Development Bank.
At the handover ceremony, Rohullah Mohaqiq, Head of Provincial Education Department said: "We have a historical and rooted relationship with German Government and people. The implementation of these 6 schools are highly valuable for PED, since these schools will provide suitable learning environment for children in a very remote area of Badakhshan Province."
In the past, students had to attend their classes under tents or outside, during both hot and cold weather. Therefore, Badakhshan's PED proposed the initial plan to construct ten schools in Badakhshan's rural areas to the Provincial Development Committee. It further developed the schools' design with RIDF's support.
Construction works started in 2016. The remaining four schools are located in the provincial capital Feyzabad and the districts of Yaftal-e Payan and Shahr-e Buzurg. They are expected to be finished in the months to come.
The buildings offer a total of 74 fully equipped classrooms and 23 administrative rooms. They are equipped with water wells, toilets, volleyball courts, walk ways and newly planted trees.  Each school compound is further equipped with a guardroom, a boundary wall and an entrance gate.
Throughout the project's implementation, RIDF offered on-the-job training, coaching and mentoring sessions for PED's engineers and managers. The activities aimed at improving the department's capacities for identifying, designing and implementing similar projects independently in the future.
The Regional Infrastructure Development Fund (RIDF) is being implemented by KfW Development Bank on behalf of the German Federal Ministry for Economic Cooperation and Development (BMZ). The program aims at improving economic and social infrastructure in Northern Afghanistan while enabling provincial administrations to plan and implement development programs independently in the future. For example, RIDF has funded about 160 kilometres of roads, 50 kilometres of irrigation canals and 11 protection dams against flooding or erosion since 2011. At the same time, the project has organized almost 900 job-specific seminars for more than 3,000 people facilitating the independent realzation of future infrastructure projects.
---
---
Related Articles
Afghani currency takes a dip against US dollar following the US government's decision to slash $1 billion in aid to
Afghan Chamber of Commerce and Industries (ACCI) reported that Afghanistan's exports witnessed a 49% increase during the first 9 months
In a letter to the House of Representatives Speaker John Boehner, US President Barack Obama asked for USD 58.6bn for