Sixty Afghan Women Graduate From Women In Government Internship Program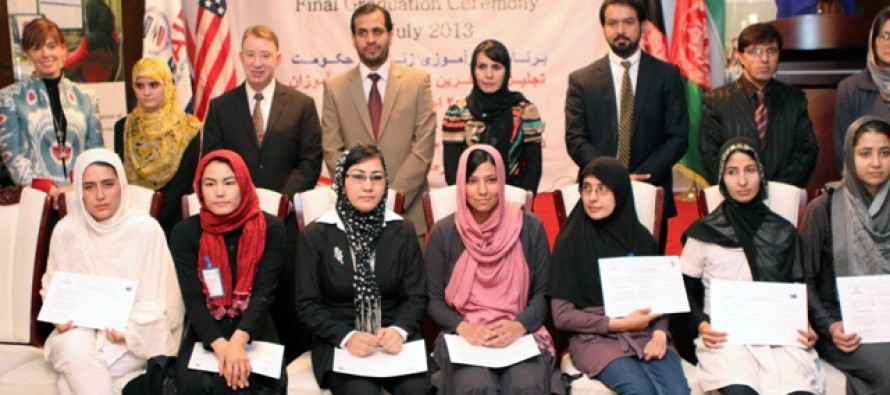 Sixty Afghan women celebrated their graduation from the USAID Women in Government Internship (WIG) Program in Kabul on Wednesday. These women completed six-month internships at the Ministry of Finance's Customs Directorate, the Ministry of Rural Rehabilitation and Development, the Ministry of Energy and Water, the National Environment Protection Agency, the Control and Audit Office, the Civil Service Commission and Afghan Telecom. The women are the latest group to graduate since the program launched in February 2010.
The WIG Program supports the Afghan Government's National Development Strategy goal to increase women's leadership in the civic sector. Of the over 330,000 Afghan Government employees, currently 20 percent are female.
Officials from the Ministry of Finance, the Civil Service Commission, and other government entities joined the graduating interns and USAID representatives to celebrate this milestone.
"Ministry of Finance is very pleased with USAID's initiative to provide internships to women. We are witnesses of some tangible results of women empowerment," said Ministry's Human Resources Director Musa Kamawi.
Since 2010, the WIG Program has placed over 440 women in internships with Afghan government institutions and other private and public entities in Kabul, Balkh, Herat, and Nangarhar, and developed successful partnerships with a number of Afghan government ministries. To date, the program has achieved an average of 70% full-time job placement rate for the program graduates.
"Internships are one of the examples of Afghan-led and Afghan-managed processes that provides meaningful opportunities for young educated women to gain work experience and for the government to find dedicated workers who have the necessary skills to build Afghanistan," said Jerry Bisson, USAID Deputy Mission Director.
---
---
Related Articles
Afghanistan Government informed the government of Pakistan and India about the agreement of the Taliban regarding the safety of the
The World Bank approved an additional grant of USD 12.5mn aimed at financing the continuation of a project to provide
The Afghan government has closed the Iran-backed Arian bank that was allegedly involved in money laundering and not adhering to