Social media for positive social impact in Afghanistan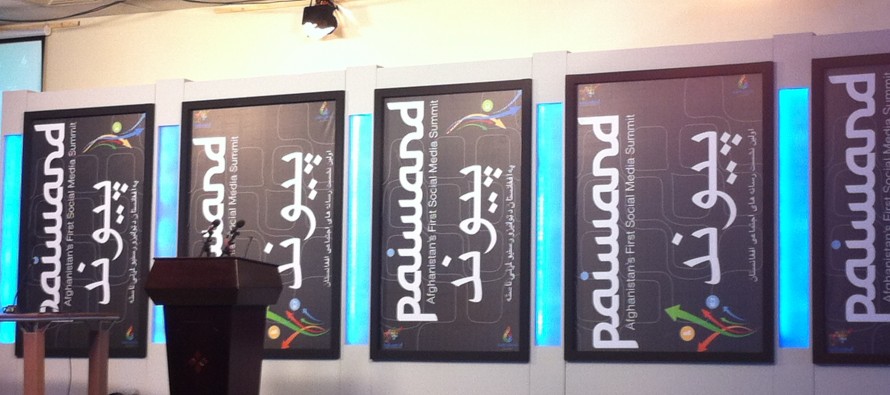 Paiwand, Afghanistan's first ever social media summit, was held in Kabul on September 22nd and 23rd.
The summit was aimed at highlighting case studies of how social media is currently used in Afghanistan as well as shedding light on the role of social media in making a positive social impact.
Participants of the summit included over 200 influential and passionate social media users from 24 provinces of Afghanistan.
The speakers and panelists pushed the envelope on how social media can play an important role in various sectors of Afghanistan.
Adela Raz, deputy spokesperson to President Hamid Karzai, spoke on how the Afghan government uses social media.
According to Raz, the presidential office's Facebook page has over 30,000 fan followers who are highly active and prompt in sending feedback and comments.
On the topic of Social Media and Development, Senior Deputy Country Director for UNDP Renaud Meyer said the younger generation of Afghanistan, which forms about 60% of the population, can play a key role in social media development.
"Social media is a fantastic tool to become exposed to other countries. It plays an important role in changing societies by exchanging information, discussing and debating," said Meyer.
He added that social media turns one from passive beneficiary into a dynamic individual who has a voice and who can potentially become active in the development of the country.
He highlighted three conditions that need to be met to allow for development of social media: 1) Access to internet: only 12% of Afghans have access to the internet, of which only 3.5% have access to the internet.  2) Access to energy: 40% in urban areas and 29% in rural areas. 3) Literacy: only 28.1% of the population(age 15 and over) is literate.
Meanwhile, several women rights activists also pointed out the importance of social media in creating awareness among the citizens about women rights.
In a workshop on opportunities and challenges in ICT discussion for women only, participants cited women harassment on social media means, mainly Facebook and cell phones, as the mean reason for the low ratio of Afghan women using social media in comparison to men.  Some of the solutions suggested included, anti-women phone harassment campaigns, creating women-specific service projects, and pre-recorded voice messages.
With the 2014 presidential elections coming up, the summit reflected on the role of social media in civic engagement.
Zia-ul-Haq Amarkhail, the head of the Independent Election Commission (IEC) Secretariat, said that the social media platforms can bridge the gap between the citizens and government.
"Social media is a powerful way to unify the citizens. People can talk about their grievances or share their opinion. Social media is a tool that can help in bridging the gap between the government and citizens," said Mr. Amarkhil.
Today, over 2.4 million Afghans have access to the internet, and among them over 1.7 million use social media platforms.
The top 5 social media platforms used in Afghanistan are:
1. Facebook
2. You Tube
3. Twitter
4. LinkedIn
5. Google +
---
---
Related Articles
The United States Agency for International Development (USAID) Agricultural Credit Enhancement- II (ACE-II) program in collaboration with the Ministry of
Afghanistan is home for a vast variety of marbles, and a wide range of them is currently being extracted from
South Carolina Republican Lindsay Graham called for cutting off all US developmental aid to Afghanistan, if President Hamid Karzai releases