Socio-Economic Effects of Migration – Does Afghan media pay enough attention?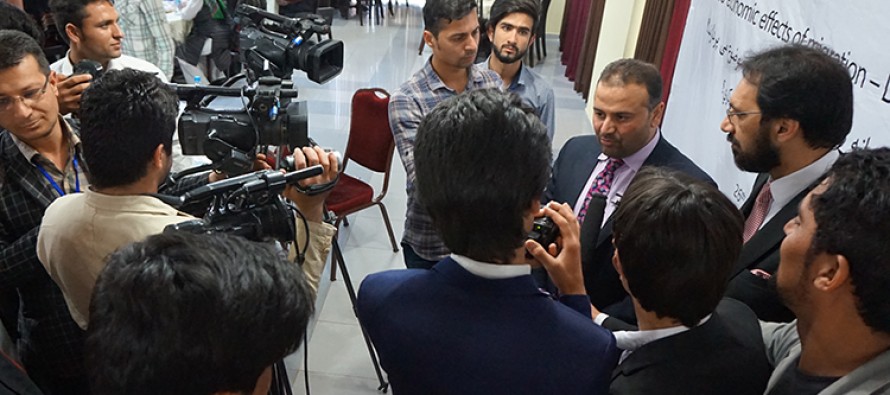 Afghanistan needs its young and educated people for the country's sustainable development and a prosperous future. This was the conclusion of a media meeting in Herat on Tuesday, hosted by the Social Association of Journalists in North Afghanistan (SAJNA) and the Afghan-German cooperation.
The meeting raised the question about socio-economic effects of migration on Afghanistan and if media actually pays enough attention.  A panel of experts gave their opinions and more than 80 journalists had the opportunity to ask questions and share their views.
The ensuing panel discussion was headed by three Afghan experts:  Murtaza Rasooli, Director of Legal Protection Department of the Ministry of Refugees and Repatriation (MoRR);  Bashir Ahmad Besharat, Professor and representative of the Economic Faculty of Herat University; and  Khalil Ahmad Parsa, Coordinator of civil society organizations in Western provinces of Afghanistan.
All panelists highlighted that Afghan media can play a key role in raising awareness among citizens about the negative consequences of migration. Together with the attending journalists, they agreed that migration is not the right solution for overcoming Afghanistan's problems. Additionally, it negatively affects economic growth as well as the state's social welfare.
Murtaza Rasooli clarified the ministry's attempts to persuade Afghans living abroad to come back home and help rebuilding the country. He said: "In cooperation with other Afghan ministries and international organizations, we have been trying to encourage repatriation of Afghan experts. The Afghan government has developed plans to create jobs and to attract private investment."  Bashir Ahmad Besharat explained that such efforts were foiled by the high number of people emigrating from Afghanistan. This results in a loss of human resources, which is contrary to the country's interests and needs.
Khalil Ahmad Parsa mentioned further that migration should not only be looked at from an individual's perspective: "As a civil activist, I have observed that migration always has a greater effect on society as a whole. If many people are leaving, it can encourage others to leave as well. That's why we should put such a decision in a wider perspective. It's so important to act responsibly."
When asked about long term plans of the MoRR,  Murtaza Rasooli replied, "MoRR has prepared a number of short and long-term plans for both migration and repatriation. This includes a detailed five-year strategic plan which is available on the MoRR's website."
Journalists also wanted to know more about the economic effects of last year's migration from Afghanistan.  Bashir Ahmad Besharat pointed out that migration has a strong impact on the Afghan currency. As it is more expensive for industrial companies to buy supplies from abroad, this resulted in a decrease of the country's productivity and, as a consequence, a decline of employment.
"Media Meetings 2016 – Afghan media for Social Responsibility" are a series of regular events held by Afghan-German cooperation and SAJNA. The meetings bring together experts from the public sector, civil society, development organizations and the media to discuss important development issues.
---
---
Related Articles
In order to facilitate exports of iron ore between Afghanistan and its neighboring countries, the Afghan government has held talks
As per new analysis of the Pentagon's budget, the average cost of each US troop in Afghanistan will nearly double
Ghazni civil airport was inaugurated on Saturday by central and provincial government officials. The USD 7mn project was one of