Solar powered hatchery in Balkh to increase poultry production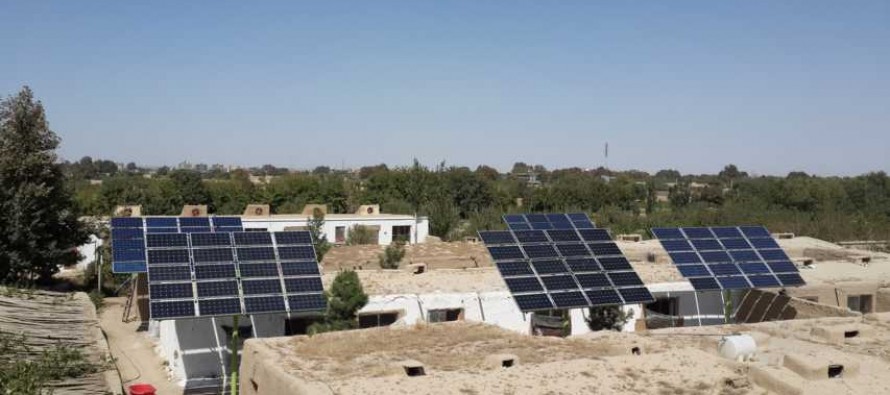 The project providing solar power to the "Taj-e-Telayee" hatchery cooperative in Balkh province has been completed and was formally inaugurated on Monday.
From now on it will be cheaper for the cooperative to produce day-old chickens (DoCs).
"Before the solar power system was installed our problem was the high price of electricity. This resulted in high production costs for hatcheries," said owner of the Taj-e-Telayee hatchery cooperative.
About 60 poultry farmers and 150 backyard families will benefit from it, as they can buy the DoCs from the hatchery at a cheaper price.
The German government supported this solar power hatchery in Balkh with nearly AFN 590,000, which is about half the total cost.
Due to the high production costs in the past, most farmers in Balkh's Nahr-e-Shahi district bought chickens from hatcheries abroad.
The new solar power system might be a game changer. It will generate 6 kilowatt of electricity and  cover about 45% of the hatchery's electricity expenses, as aresult production costs will decrease.
The "Taj-e-Telayee" hatchery cooperative will run the new solar power system in the village Baba Yadgar, in Nahr-e Shahi district. It provides 60 big poultry farmers and around 150 backyard poultry families with chickens. Since the hatcheries' electricity bills will be lower, they will be able to sell their produce to poultry farmers at a lesser cost. This improves the competitiveness of the cooperative's DoCs, which could be reflected in a decreasing dependence on imports from Iran and Pakistan. In addition to that, local poultry production might increase, resulting in a boost of farmers' income.
The German government's program for promoting sustainable economic development and employment (SEDEP) recently conducted a study on hatcheries' challenges in Balkh. It concluded that these hatcheries' high production costs result in a competitive disadvantage for their poultry products. This is why DoCs for meat and egg production are mostly imported, mainly from Pakistan and Iran. Based on these findings, the German government decided to provide funding for the solar powered hatcheries.
SEDEP is providing continuous support to improve the value chain for poultry products. It aims at helping Afghan farmers, manufacturers, cooperatives and traders of poultry products to increase their incomes. Measures to reach this goal include training and infrastructure development initiatives, as well as the organization of dialogues between public and private sector actors.
---
---
Related Articles
Afghanistan's Lower House of the Parliament, the Wolesi Jerga, approved the much-awaited national draft budget after it was revised by
Public Work Ministry has signed 8 contracts on road construction projects in 4 provinces. Deputy Minister Mohammad Akbar Barekzai said
A report by the Afghan Independent Media Consortium (AIMC) and 8am Newspaper has revealed extensive corruption and misuse of power