Sports equipment for 18 schools in Kabul & Mazar-e Sharif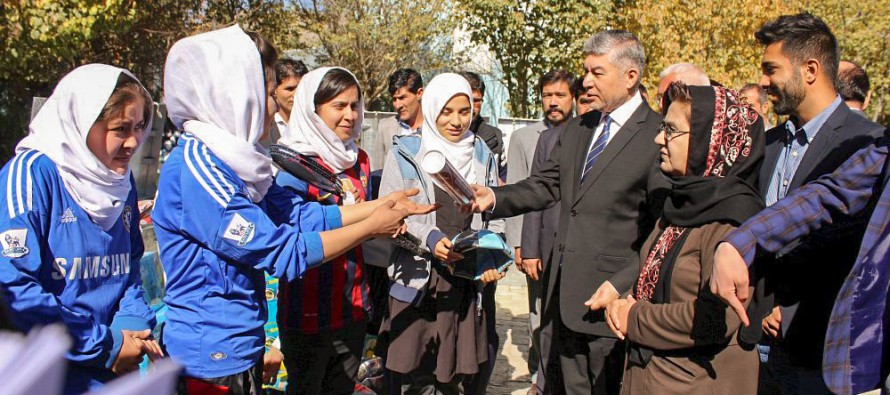 The Afghan-German Cooperation has funded sports equipment to eight girls' school in Kabul levitra online canadian pharmacy and another ten schools in Mazar-e-Sharif.
About 27,000 female students are enrolled in the schools that obtained sports equipment and will benefit from advanced physical education classes. The German Government funded the new school equipment at a total cost of nearly AFN 1.2 million.
Government officials including Minister of  Education, buy viagra lowest price canada Dr. Assadullah Hanif  Balkhi, as well as representatives of the Afghan-German Cooperation came together at Surya High School in Kabul to allocate the new school equipment to principals and sports teachers.
Since 2015, the program "Sports for Development" (S4D) trains female physical education teachers to learn how to teach practice-oriented sports lessons that are adapted to various prevailing conditions (classroom, schoolyard, sports ground etc.) and resources (such as sports equipment). The project aims at improving sample cialis physical education in Afghan schools.
The sports equipment was given to schools whose teachers have already received pedagogical and practical trainings. Currently, the next group of 40 physical education teachers attended or are still attending training courses in the provinces of Samangan and Kabul.
In total, 116 teachers working at 58 different schools in Kabul, Balkh and Samangan benefit from the training measures. On average, the pilot schools have 1,500 students each; hence, nearly 90,000 students will benefit from better qualified teachers as well as new sports equipment.
The education measures as well as the purchase of sports equipment were both funded by the Afghan-German Cooperation with collaboration of the Afghan Ministry of Education's Physical Education Directorate (PED).
The initiative "Sports for Development" (S4D) is aiming at integrating physical education classes as a practically orientated subject in Afghan schools. The project trains sports teachers, provides necessary sports equipment and develops well adapted curricula. The implementing organization Deutsche Gesellschaft für Internationale Zusammenarbeit (GIZ) GmbH cooperates closely with the Afghan Ministry of Education in order to develop specific strategies and training schedules for teachers.
---
---
Related Articles
The Lower House of the Afghan Parliament approved the budget for the year 2014 by majority. The first draft of
Afghanistan imported 205.2 million kWh of electricity from Tajikistan during the current month, indicating a 23.6 million kWh increase from
New Straits Times, Kuala Lumpur-Malaysia has stated it will do its utmost to support Afghanistan's reconciliation and reconstruction process. The