Statistics on presence of Afghan women judges, doctors, teachers and security officials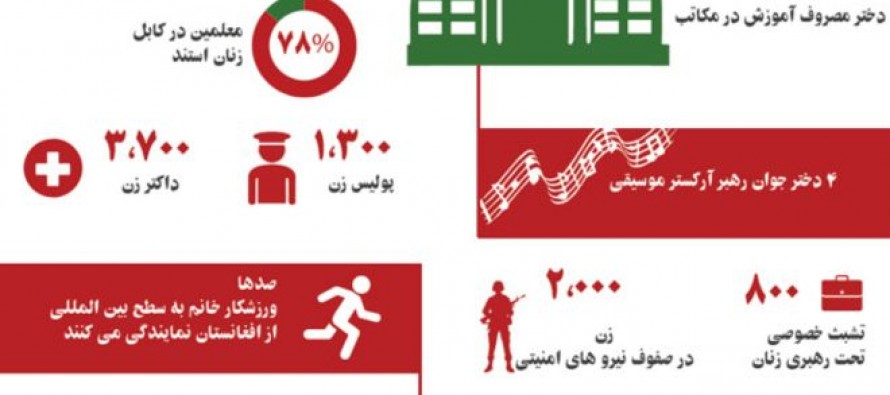 Recent figures reveal that 33% of teachers in Afghanistan are comprised of women and 240 women are serving as judges.
3.5 million Afghan girls are attending schools/Madrassas across the country.
Based on figures from the Afghan Ministry of Education, there are currently 8.5mn students, 170,000 teachers and about 16,000 schools.
The Education Ministry's staff is over 92,000, of which 28% are women.
In capital Kabul, 78% of the teachers are women.
According to recent report from the Afghan government, 1,300 Afghan women are serving in the police force and 2,000 women are part of the security forces.
There are 3,700 Afghan female doctors and 800 private businesses led by women.
Hundreds of Afghan female athletes have participated in various international and national sports, and 4 Afghan girls are leading the nation's orchestra.
At the provincial level, 32% of departments are led by Afghan women.
Afghan women form 27% of the House of Representatives (68 out of 249) and 17 seats are allocated for women in Afghan Senate.
Representatives from the south-western Nimroz province are all women.
The Afghan government has announced to allocate 30% of government posts to Afghan women until 2018.
Afghan women form 22% of Afghanistan's public service employees.
---
---
Related Articles
The U.S. Agency for International Development (USAID) Acting Administrator Alfonso Lenhardt announced a new $1.5 million, three-year award to the
Afghan truckers and traders have complained that they were still asked to pay illegal money under various pretexts at the
The American University of Afghanistan (AUAF) has resumed classes six months after the deadly attacks that left 12 people dead