Status update on development plans for Baghlan's public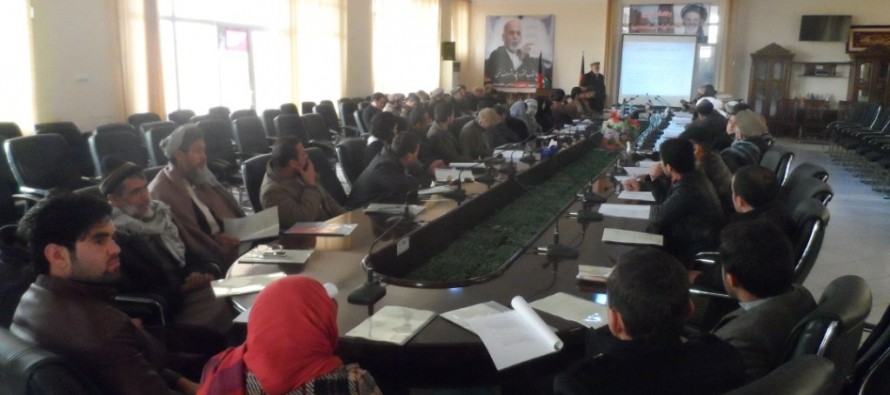 Baghlan's District and Provincial Governor Offices (DGOs and PGO) presented their development plans for the province's various districts over the past week.
This allowed Baghlan's inhabitants to get an idea of the development projects that the government is currently planning to accomplish.
Also, they could get an impression of how these development projects might positively affect their and their families' lives.
Afghan-German cooperation provided financial support for the event in a greater effort to encourage exchange between the government in Afghanistan and its public.
On Tuesday, Baghlan's provincial and district governments explained to around 80 participants what projects exactly they wanted to realize in Baghlan, in the next years. They also presented projects they had already successfully completed such as the building of Sholokto girls school in Dahna-e-Ghori district, the pavement of a road in Fering district, the extension of water supply as well as the construction of a mosque in Pol-e Khomri.
The presentation on the development plans was preceded by a public hearing, which underlined the need for continuous interaction between the public and its government. Issues important to the community such as transparency, corruption and public administration were discussed as well.
"Such public hearing events demonstrate that we recognise the people as important partners in our work. It decreases the distance between Baghlan's population and the government. Sustainable development can only be achieved when the people are involved in our activities," said Shokria Asel Yaqeen, director of Information and Culture in Baghlan.
Both events were hosted by Baghlan's Department of Information and Culture (DoIC) and Department of Economy (DoEc) to encourage a dialogue between the public and the government. The German program for rural capacity development (RCD) provided technical and financial support for the two events as well as for drafting the development plans.
As part of Germany's cooperation with Afghanistan, the Regional Capacity Development (RCD) program is financed by the German Federal Ministry for Economic Cooperation and Development (BMZ) and implemented by Deutsche Gesellschaft für Internationale Zusammenarbeit (GIZ) GmbH. In six provinces in northern Afghanistan, RCD supports its partners' development priorities in the provinces and districts, while at the same time providing training and coaching programmes for civil servants. With its broad range of activities, the programme aims at increasing Afghan ownership of the development process, strengthening state institutions and promoting transparency and inclusiveness.
​
---
---
Related Articles
President Hamid Karzai on Saturday left Kabul for Dushanbe, capital of Tajikistan, to attend the 5th summit of the Regional
Two sub-projects of the National Solidarity Program (NSP) of the Ministry of Rural Rehabilitation and Development (MRRD) were recently completed
The Afghan Ministry of Mines and Petroleum has signed 86 mining contracts with different private sector companies during the past