Supreme Foundation donates essential classroom supplies and textbooks to Educational Center in Kabul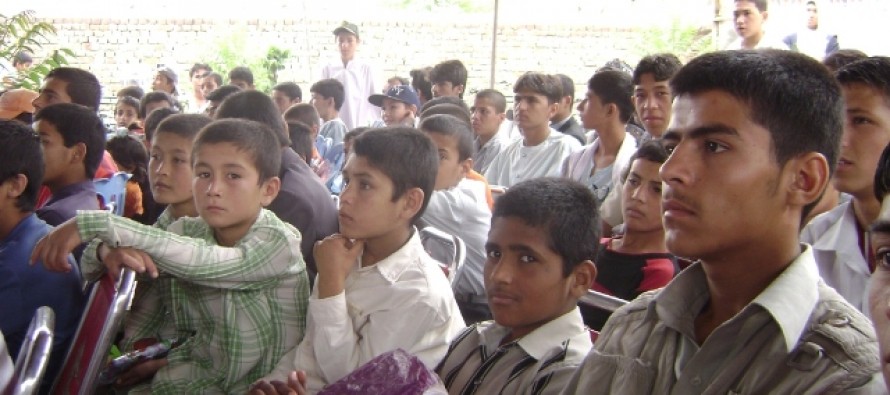 Around 70 per cent of Afghanistan's population is under the age of 25; education is key tool for future stability.
Supreme Foundation, a registered charitable trust established by the global supply chain solutions provider Supreme Group, has made a donation of essential classroom supplies and textbooks for students at the Karwan Elm Educational Center in Kabul. It is the third school since April 2013 to benefit from the Foundation's ongoing education program, which provides support to disadvantaged students in Afghanistan.
Supreme Foundation donated text books, tables, chairs, white boards, notice boards and stationery school kits to the Center, as well as teacher supplies such as encyclopedias, multi-lingual story books and art materials. Karwan Elm Educational Center is an independent, non-profit, non-political institution that provides education to around 200 students, half of which study for free.
Farhad Nasiri, Director of the Karwan Elm Education Center, said: "Around 70 per cent of Afghanistan's population is under the age of 25. This represents a great opportunity, as education can play a huge role in ensuring the future peace and prosperity of our country. We need support from organizations, as many students are too poor to receive a formal education, so we are grateful for the assistance of Supreme Foundation."
Victoria Frost, Supreme Group's Director of Communications and Treasurer of Supreme Foundation, added: "Supreme Foundation makes investments in projects that help children to develop the skills and knowledge to lead successful and sustainable lives. Our assistance has helped thousands of children and families survive amidst the ravages of brutal winters, wars, famines and severe deprivation. We are proud to work with community leaders to achieve real results and improve the lives of children."
Supreme Foundation aims to alleviate hardship and improve the health, education and living conditions of disadvantaged children in conflict areas and remote regions around the world where Supreme Group operates. The Foundation has made substantial investments in schools, healthcare facilities, and housing developments in Bosnia, the Ivory Coast and Afghanistan.
Supreme Group is a leader in the provision of end-to-end supply chain solutions in some of the world's most challenging and remote locations.  The Group has operated in Afghanistan for more than 10 years in support of many of the world's leading organizations, governments and diplomatic missions. (supreme-group.net)
---
---
Related Articles
Pajhwok Afghan News (PAN) reports that residents of Herat have complained about the drastic increase in the prices of  daily-use
About 1900 families in Shahrak district of Ghor province had benefited from 23 infrastructure projects implemented by the National Solidarity
According to reports, Kabul Airport's Instrument Landing System (ILS) is not properly functioning, which could be risky for incoming flights.