Tajikistan Power line extended from Kunduz to Takhar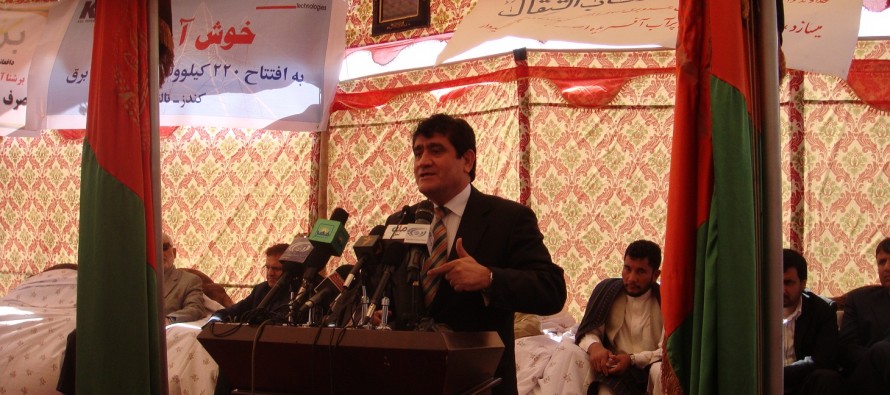 Funded by the Asia Development bank, the existing USD 27.8mn transmission line in Tajikistan is extended to Takhar province from the neighboring Kunduz province.
The ceremony was attended by the CEO of the Da Afghanistan Breshna Sherkat (DABS), Abdul Razique Samadi, also responsible for the construction, ADB Country Director for Afghanistan, Joji Tokeshi, and Country Manager of the lead contractor, KEC International, Subramaniam.
The project will take 18 months to extend the 157km line, which has been operational since October, 2011. It is part of the Energy Sector Development Investment Program which also includes other programs such as 220-KKV transmission line from Kunduz to Taluqan, construction of small hydro power plants in Badakhshan and Bamyan, and rehabilitation of gas fields in Sheberghan.
The new line extension will bring power to an estimated 40,000 Afghans.
Abdul Jabar Taqwa, governor of Takhar, awarded Mr. Samadi with a certificate of appreciation on behalf of Takhar residents during the inauguration ceremony of the project.
---
---
Related Articles
The Afghan Finance Ministry has reportedly proposed to the presidential palace merging of the three national banks of Afghanistan—Bank Millie
Ministry of Agriculture officials have reported that saffron production has spread from 20 provinces to 26 provinces in the past
By Zabiullah Jhanmal-Tolo News An Afghan private company which produces military uniforms and boots is close to collapse after it