TAPI project plays a key role in stabilizing Afghan economy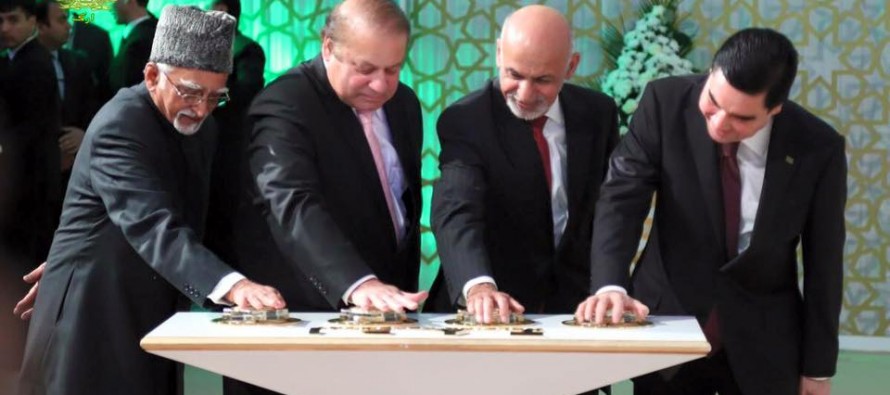 Afghan President Ashraf Ghani , Pakistani Prime Minister Nawaz Sharif , Indian vice president Hamid Ansari and their host Turkmenistan President Gurbanguly Berdimuhamedov on Sunday cialis refractory inaugurated the USD-10bn Turkmenistan-Afghanistan-Pakistan-India (TAPI) pipeline project in Ashgabat, Turkmenistan.
The long-awaited TAPI natural gas project is believed to have a positive impact on Afghanistan's economy and security.
The project is expected to generate USD 400mn in transit fee and create job opportunities to thousands of Afghans.
Of the nearly 1,800km pipeline, 750km would be price of levitra at walmart passed through Herat, Farah, Helmand and Kandahar provinces of Afghanistan reaching Pakistan.
Referring to the project as "peace project", Afghanistan Regional Studies Center Director Rafiullah Niazi said the project would where to purchase viagra play a critical role in allaying political tensions between Afghanistan and Pakistan and Pakistan and India.
Afghanistan would also benefit from the construction of roads that are part of the project.
According to Niazi, the project would result in construction of new townships and many insecure areas would see improvement in their security situation.
TAPI is a lynchpin in the realization of the New Silk Road in the arena of energy is the Turkmenistan-Afghanistan-Pakistan-India (TAPI) gas pipeline where Afghanistan plays a central role in connecting energy-rich Central Asia to energy-deficient South Asia.
The idea of the pipeline first originated in 1995 when the Turkmenistan and Pakistan leaders signed a Memorandum of Understanding (MoU).
In 1996, the Central Asia Gas Pipeline, Ltd. consortium for construction of a pipeline, led by U.S. oil company Unocal, was formed. On 27 October 1997, the consortium was incorporated in formal signing ceremonies in Ashgabat, Turkmenistan by several international oil companies along with the Government of Turkmenistan. In January 1998, under the Taliban regime, Afghanistan signed an agreement that allowed the proposed project to proceed. After the ousting of the Taliban in 2001 by the US-led foreign forces, the arrangements were invalidated. The new deal was revived in 2002 and received full support from Washington. Despite the ongoing turmoil in Afghanistan, in 2005 the Asian Development Bank financed technical feasibility study. At a donor meeting in 2006 in New Delhi, countries promised to accelerate planning of the pipeline and to help Afghanistan become an energy bridge.
Envisaged to be completed by 2018, the pipeline is expected to produce USD 400mn a year in revenues for Afghanistan. It will further provide an alternative energy source for Afghanistan, which is currently depending on Iran for fuel. In addition to the economic benefits that the project will bring in its wake to the participating countries, it has serious geopolitical implications as well that will further bolster Afghanistan's ties with its neighbors, particularly Pakistan. Pakistan and Afghanistan's tensions over trade and terrorism are profound. The TAPI project will promote positive political and economic interaction between the two neighboring nations by providing an avenue for mutually-beneficial economic cooperation.
---
---
Related Articles
Foreign investors are recognizing the opportunity within Afghan markets. Favorable regulations on foreign ownership, equity sales, and repatriation have all
The Afghanistan Chamber of Commerce and Industries (ACCI) has voiced their concerns over the separation of the industry sector from
Helmand Governor Muhammad Naeem planted the first sapling to mark the beginning of the spring tree-plantation drive on Saturday. Addressing