Teacher Training Centres get new buildings in Balkh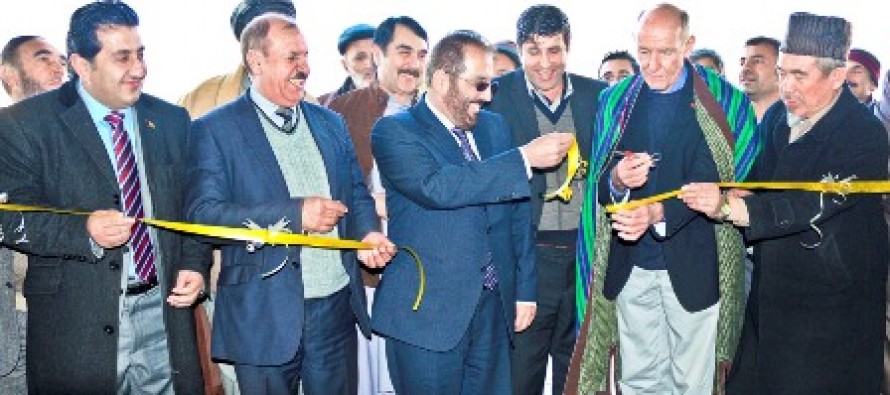 Balkh province's Department of Education (DoE) officially celebrated the inauguration of two 16-classroom buildings for teacher training centres (TTCs) in the districts of Sholgara and Dehdadi in Balkh on Monday.
Funded by the German government, the total budget for the two construction projects amounted to over AFN 49 million (over AFN 22.5 million in Dehdadi and over AFN 26.6 million in Sholgara). Besides the new buildings, the funding also went to supplying the TTCs with new furniture for classrooms, office equipment, laboratory equipment and books for the libraries.
With the new buildings, furniture and facilities, the Department of Education in Balkh can provide a better learning environment for students at the Sholgara and Dehdadi TTCs. Students suffered from a lack of proper classrooms and other educational facilities before the buildings were constructed.  Overall, the new buildings directly benefit 402 students (273 female and 129 male) in Sholgara and 400 students (360 female and 40 male) in Dehdadi. As these students will go on to work as teachers in the districts, the improved learning conditions provided by local government for teaching students will directly affect the quality of teaching and education in the districts. The two new buildings will support the DoEc to offer courses for some 802 prospective teachers of physics, chemistry, biology and mathematics. The new laboratories and equipment for both theoretical and practical lessons contribute to better learning and teaching options for 802 teachers in accordance with the new methods. The TTCs in both districts were opened in the year 2010.
The inauguration ceremonies were attended by Mr. Gholam Jailani Hamyoon, Deputy Minister of Ministry of Education, Mr. Abdul Sami Quraishi, Head of the Teacher Training faculty of Balkh province, Mr. Abdul Rahman Samadi, Director of DoE as well as the district governors of Sholgara and Dehdadi and Mr. Florian Smitmans, Development Commissioner of the German Federal Ministry for Economic Cooperation and Development. The events were hosted by the Department of Education of Balkh province.
The Department of Education in Balkh was responsible for starting and running both projects together with the districts' Governor Offices, based on a decision by the Provincial Development Committee (PDC) in Balkh. Implementation was supported by the Regional Capacity Development Fund (RCDF), financed by the German Federal Ministry for Economic Cooperation and Development (BMZ).
As part of Germany's cooperation with Afghanistan, the RCDF is implemented by Deutsche Gesellschaft für Internationale Zusammenarbeit (GIZ) GmbH. In six Northern provinces in Afghanistan, the RCDF supports the development priorities of the Afghan partners in the provinces and districts, while at the same time providing training and coaching programs for civil servants. With its broad range of activities, the RCDF aims to increase Afghan ownership of the development process, strengthen Afghan state institutions across various provinces and promote transparency and inclusiveness.
---
---
Related Articles
As Afghani weakens, the prices of food and other daily-use items went up during the outgoing week in Kabul. The
The Global Times-The protracted war and conflicts have converted a China-built general hospital in Kandahar to a main surgical center
Afghanistan and Pakistan concluded the 10th Joint Economic Commission (JEC)and agreed on bolstering economic ties to expand their access to