The Afghan education revolution and the role the media play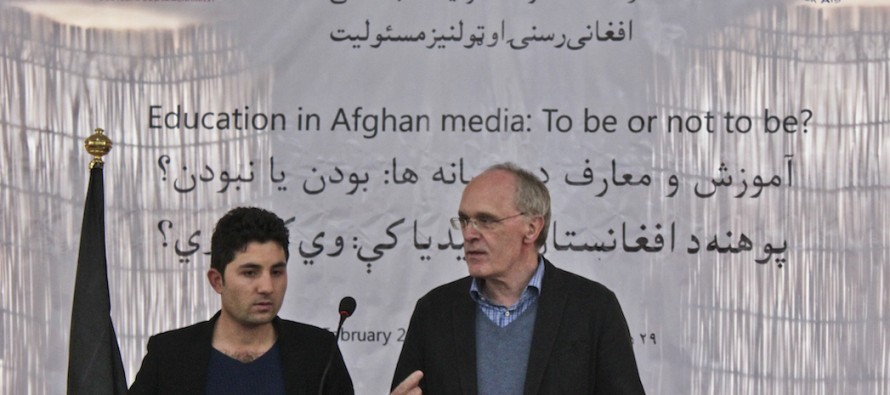 The Mediothek Media House in Mazar-e-Sharif hosted the fourth 2014-2015 Media Meeting on reporting education in the Afghan media.
Teaching experts Abdul Aziz Azizi, Director of the Balkh Department of Education, and Dr. Gustav Reier, head of the Afghan-German Cooperation program for promoting the technical and vocational education and training (TVET) system, gave talks on the state of the school and job training system in Afghanistan.
Zabihullah Eshas, deputy director of the Social Association of Journalists in Northern Afghanistan (SAJNA), talked about the potential for media and education to cooperate on various issues.
"Media has great value, and if the media can follow the demands of education, they will do a great service to the country. I assure journalists that there are no obstacles to attaining information from the education sector and, especially, our department," said Abdul Aziz Azizi.
On his part, Gustav Reier continued stated: "The education system needs to reach more youngsters…According to our findings, over 91% of all illiterate young people have to work, yet they wish to acquire an education. The task the education sector now faces in Afghanistan is how to reach this target group and get across the difference a proper education makes."
Zabihullah Eshas touched upon the success education has had in Afghanistan and how it is often unreported. He asked, "Why can't journalists concentrate more on good news? For example, in the education sector, they should fulfil a responsibility to help more people discover what value education can have in their lives."
The panel of speakers also had the chance to answer questions from over 40 representatives from various national and local TV, radio and newspaper outlets, including the Pajhwok News Agency, Arzoo TV, Ariana News, TOLO TV, Rahe Farda TV & Radio, Reuters, Shamshad TV and Tamadon TV.
In response to how TVET system can address more young people, Gustav Reier said: "Usually, personal networks – like family, community and elders – are responsible for sending their young to schools or not. Few know that Afghanistan has a functioning apprenticeship tradition in the bazaars that is a real asset. The press can contribute greatly to unleashing the potential of this system."
The meeting concluded with journalists and education representatives agreeing that creative, new approaches in education can generate better coverage and encourage more children to go to school.
"The education sector and its ministry should develop new creative ideas for new creative generations. A good example is the TVET program by Afghan-German Cooperation, which brings children from the streets to schools and gives them better opportunities. In this context, journalists must develop a sense of responsibility to encourage education," said Zabiullah Ehsas.
Media Meetings 2014 – Afghan Media for Social Responsibility – are a series of regular events held by Afghan-German Development Cooperation with Mediothek Afghanistan. The meetings bring together a panel of experts from the government and public sector, civil society, development cooperation and the media, to discuss important development issues with the press.
---
---
Related Articles
Afghan presidential candidates, Dr. Abdullah Abdullah and Ashraf Ghani, have emphasized on immediate ratification of Anti-Money Laundering and Prevention of
Afghan Urban Development Minister Hassan Abdulhai said a master plan for the development of Bamyan city had been prepared and
Afghanistan has witnessed a 21% increase in the export of fresh and dried fruits this year as compared to the