The role of the media in exposing and curbing corruption in Afghanistan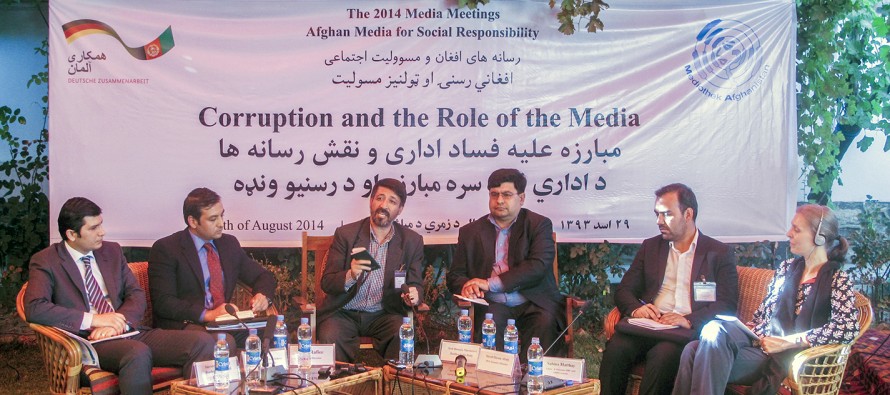 At today's Media Meeting, Afghan-German Cooperation and Mediothek in Kabul brought together experts from government, civil society, the media and international bodies to discuss what the media has achieved so far in Afghanistan and the challenges the press face in reporting on corruption. In the last decade, Afghanistan has seen both a media revolution – with numerous new media outlets operating – and a sharp rise in corruption. Afghanistan is still one of the world's most corrupt nations, and graft affects society on all levels. However, by taking government and the international community to task on the issue, the country's new media outlets have paved a way for a more open dialogue on corruption.
The Media Meeting presented a guest talk by Sabina Matthay, editor and presenter for German TV, with an international view of the pitfalls and opportunities of reporting on corruption. The following panel discussion brought together Dr. Ahmad Rashed Behroz, executive director of the Independent Joint Anti-Corruption Monitoring and Evaluation Committee (MEC), Sayed Ikram Afzali, director of Integrity Watch Afghanistan (IWA), Ahmad Rashed Totakhail of the High Office of Oversight and Anti-Corruption (HOOAC) and Shah Hussain Mortazavi, editor-in-chief of Hasht Subh Daily newspaper. Aziz Rafiee, director of the Afghan Civil Society Forum Organization (ACSFO) moderated between the various experts, representatives and the audience.
The panel and audience concluded that "Corruption has become a culture", as Shah Hussain Mortazavi said. Dr. Behroz of MEC added that "Corruption prevents progress for all Afghanistan's citizens. It is our responsibility to not remain quiet. Media and anti-corruption agencies have to work together to fight corruption effectively." The panelists agreed that journalists face great challenges in reporting corruption, including threats, and see themselves forced to institute self-censorship. As Sabina Matthay analysed "Even in Germany journalists are bribed. It is not a problem confined to Afghanistan."
Panelists also answered questions from the audience on what investigative journalism needs to achieve to make a positive change in issues like integrity, impunity and transparency. As a representative of the Afghan Government's efforts to tackle corruption, Ahmad Rashed Totakhail, said "Prevention is better than treatment, but more coordination is needed among anti-corruption bodies. The media should also present solutions." Speaking on behalf of civil society Mr. Ikram Afzali from IWA said, "Citizens not only need to be aware of the problems of graft, they need anti-corruption success stories too."
As part of its activities working with the government, Afghan-German Cooperation offers anti-corruption courses. Since 2010, certified trainers have held seminars on anti-corruption and integrity for more than 600 government employees, helping to increase awareness about corruption.
Media Meetings 2014 – Afghan Media for Social Responsibility – are a series of regular events held by Afghan-German Development Cooperation with Mediothek Afghanistan. The meetings bring together a panel of experts from the government and public sector, civil society, development cooperation and the media, to discuss important development issues with the press. This Media Meeting on anti-corruption received technical support from MEC.
---
---
Related Articles
From 8th to 11th of May, the Afghanistan Sustainable Energy Week (ASEW 2017) takes place in Kabul. The campaign, organized
At a meeting arranged by the Afghan-German and Freidrich Ebert Foundations in Kabul on Tuesday, some independent non-governmental entities proposed
The Independent Directorate of Local Governance (IDLG) at a conference, titled "Development Conference of Khost Province" in Khost pushed for