Thousands of entrepreneurs from across Afghanistan flocked to the Access to Finance Exhibition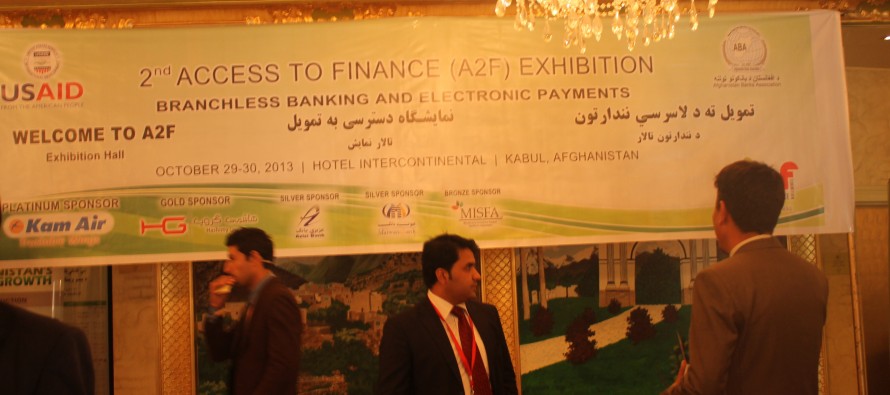 This year's Access to Finance Exhibition attracted more than 3,500 members of the Afghan business community to showcase their businesses.
The event featured 50 booths of banks, financial and lending institutions, insurance companies, telecommunication and business support services.
The two-day exhibition is held by the United States Agency for International Development (USAID) and the Afghanistan Banks Association (ABA).
The purpose of A2F was to connect financial institutions with enterprises looking for financing to expand their businesses. In addition, A2F Exhibition served to allow financial institutions to widen their customer base and target additional business sector and discover available credit, loan and other financial products.
Banks and insurers help mobilize and allocate savings, monitor investment projects and credit risk, and mitigate the negative consequences that random shocks can have on capital investment.
Banking has been able to penetrate itself into the market, while insurance yet has a long way to go. The lack of awareness about insurance among the general public is one of the reasons for the slow pace of insurance market in Afghanistan. There is a need for channels to promote culture of insurance and its importance. Banks are one channel through which insurance knowledge can be spread.
The synergy of banks and insurers will robustly be predictive of increased productivity across the nation.
"The Afghan financial sector has been growing at a healthy pace. We expect the expansion of branchless banking will…help small and medium enterprises grow at a faster pace," said ABA chairman and Afghanistan International Bank CEO, Khalilullah Sediq.
Over the last two years, the number of Afghans owning a bank account has risen from one to three million, according to a statement from the US agency.
---
---
Related Articles
Pajhwok Weekly Price Report-Gold and diesel prices increased while rates of other daily-use items stayed unchanged during the outgoing week
The Express Tribune-Tahir-ul-Qadri's sit-in has forced the government to postpone a two-day meeting of commerce ministers of Pakistan, Afghanistan and
Addressing the international academic seminar on Energy Security of Afghanistan and Region held in Kabul, Asian Development Bank (ADB) Country