Timur Shah Mausoleum officially opened in Kabul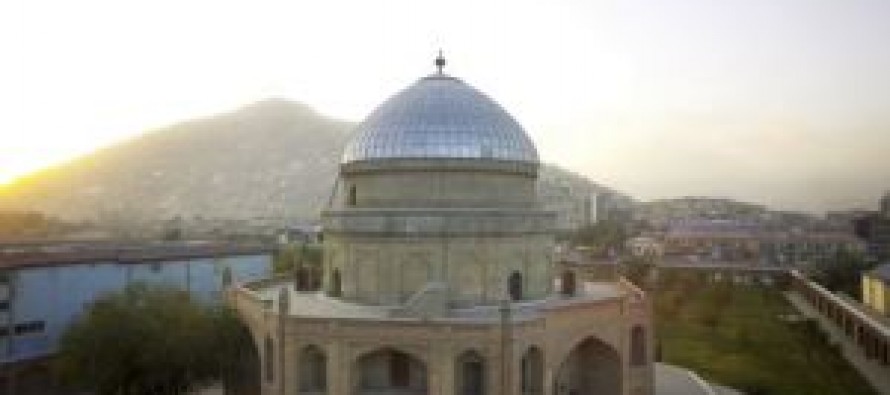 President Hamid Karzai and His Highness Prince Karim Aga Khan opened the restored mausoleum of Timur Shah on Friday.
Timur Shah was the first to make Kabul the capital of a unified kingdom. He died in 1793, but it was another 23 years before his mausoleum was built, possibly due to the chaos after his death, caused by his leaving over 20 sons and no nominated successor. The building is a copy of the Indian Mughal style, an octagonal brick structure surmounted by a plain brick drum and shallow dome. The mausoleum stands in one of the oldest surviving parts of Kabul, with its traditional street plan, houses and winding lanes. This area has been at the center of a restoration project by the Aga Khan Trust for Culture.
The Aga Khan Trust for Culture (AKTC) began work on the restoration of the monument in 2003, when it signed an agreement with the government of Afghanistan to restore and rehabilitate a number of historic buildings and building spaces in the city of Kabul.
Another project undertaken by AKTC includes the restoration of the sixteenth century Bagh-e-Babur (Babur's Garden).
The agencies of the Aga Khan Development Network are private, international, non-denominational development organizations. They work to improve the welfare and prospects of people in the developing world, particularly in Asia and Africa, without regard to faith, origin or gender. Its programs are designed to bring a critical mass of economic, social and cultural activities to gear on a given area. Its projects encompass many of the determinants of the quality of life, including the natural and built environments in both urban and rural areas, food security, health, education, access to financial services and economic opportunity, as well as the cultural areas of traditional music, architecture and art. Some programs, such as specific research, education and cultural programs span both the developed and developing worlds.
---
---
Related Articles
The historic deal, Chabahar agreement, was signed in Tehran on Monday between leaders of Afghanistan, Iran and India. President Ashraf
The winners of a business plan competition were announced at the Baran Imperatory Hotel in Mazar-e-Sharif, in Balkh province on
The Afghan and Kazakh government signed two agreements and 4 memorandum of understandings (MoUs). According to a statement from Afghan