Trainings for civil servants and university graduates of Kunduz province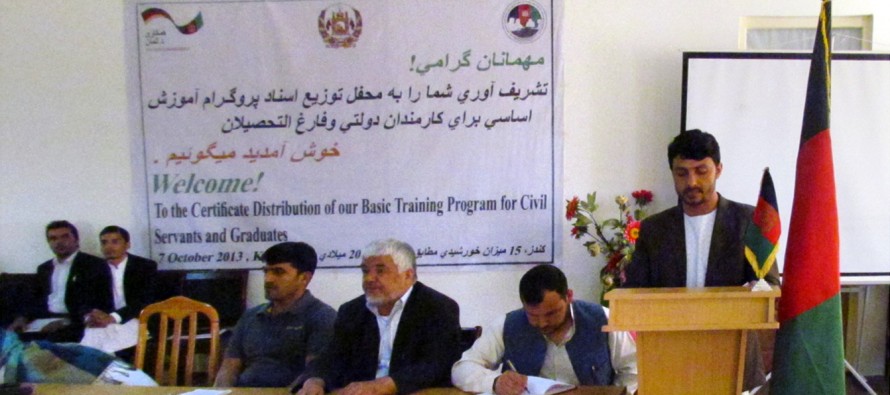 On October 7, 2013, 304 civil servants of all line departments in Kunduz as well as graduates from Kunduz University were certified for the completion of a six-months training course in management, computer skills and English language conducted by the Independent Administrative Reform & Civil Service Commission (IARCSC). Mr. Adul Jalil Hamid, Regional director North-East IARCSC and head of IARCSC Kunduz, and Mrs. Badal Bibi, representative of the department of women Affairs as well as representatives of the German Cooperation with Afghanistan attended the ceremony, which was held at IARCSC Kunduz training centre.
This "Basic Training" was split in two courses of 6 months, each course comprised 152 young civil servants and university graduates, of which 39 were female. The knowledge gained in these trainings is the essential basis for further improvement of knowledge and will help to fill vacancies for civil servants in Kunduz government as well as empower the already employed civil servants to meet the requirements of their working environment and hence, improve the service delivery of the provincial government to the people.
This project was realized by the IARCSC Kunduz based on a decision of the Provincial Development Committee (PDC) Kunduz in April 2012. Implementation was supported by the Regional Capacity Development Fund (RCDF) Kunduz, which is financed by the German Federal Ministry for Economic Cooperation and Development (BMZ).
As part of the German Cooperation with Afghanistan, the RCDF is implemented by Deutsche Gesellschaft für Internationale Zusammenarbeit (GIZ) GmbH. In six Northern provinces of Afghanistan, the RCDF is supporting the development priorities of the Afghan partners at provincial and district level, while at the same time providing training and coaching programmes for civil servants. With its broad range of activities, the RCDF aims to increase Afghan ownership of the development process, strengthen Afghan state institutions on subnational level and promote transparency and inclusiveness.
The IARCSC, whose duty is to "lead reforms, prepare and develop public administration policies and monitor and evaluate implementation process of reforms" was established in accordance with the Bonn Agreement and based on a President's Decree in the year 2003. One of the IARCSC's main tasks is to develop the capacities of civil servants in order to enable line departments to deliver high quality services in a transparent manner to the population. The legal basis of the Commission and its structure was laid with the ratification of the Afghanistan civil service law which is based on Article 50 of the Afghan Constitution.
---
---
Related Articles
Da Afghanistan Breshna Sherkat (DABS) on Wednesday signed a contract with the Etisalat Telecommunication Company to enable Kabul residents to
Afghani currency has declined against the US dollar and has sparked concerns among the masses over the future of the
The carpet-processing factory, a US-funded project, was inaugurated on Saturday in the industrial park in Western Herat. The factory is