Transit problems dampen the spirit of Afghan traders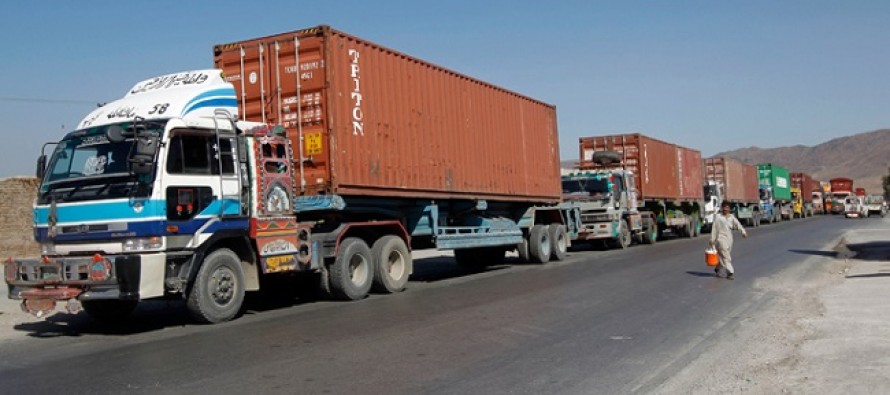 By: Sayer Zaland

Although Afghanistan has signed economic cooperation agreements with its neighbors like Iran and Pakistan, the Afghan traders still face numerous challenges related to transit
Mohammad Younus Momand, a fruit trader from Nangarhar, had everything going for him. He started his business from scratch after years of political turmoil and economic recession in his homeland. He worked tirelessly, saving every penny, and made substantial gains.
In October 2013, his worst fears came true. Twenty of his trucks, carrying pomegranates, were forced to stop at Wagah Port. While waiting for the clearance, the fruit rotted and Momand suffered a huge financial loss. He still has not recuperated from that shock.
"When you work hard for every penny, the losses are difficult to absorb," says Mr. Momand, as he relates the details of the financial tragedy.
Like many other Afghan traders, Mr. Momand exports fruits from Afghanistan to India through Wagah and Karachi ports, but not everything is hunky dory. They have to face many trials and tribulations. "Our trucks are forced to halt in Pakistan on various flimsy pretexts like bank guarantee, customs tariff and other things," says Mr. Momand. "The growing political strains between the two governments have greatly affected the business relations, and our traders have to pay the price."
Afghan traders face myriad stumbling blocks, from political relations that affect trade relations to narrow, treacherous roads and thieves who lay in wait and rob them often. Their cargos sit for weeks and months on a border or at port, while custom charges pile up.
Mohammad Yousuf Yousufi, an Afghan trader from Herat who imports fuel from Iraq, says Iranian officials stopped 19 of his fuel tankers on Iran-Afghanistan border five months ago. The transit law in Iran, he argued, has changed so the agreements signed between the two countries are not relevant.
Though Afghanistan has signed an economic cooperation agreement with Iran, the Afghan traders continue to face problems while crossing the border. "We have to wait for months at different ports to cross border and that seriously affects our business," says Mr. Yousufi. "What is the use of bilateral agreements if the citizens do not benefit from them?"
Mr. Yousufi says they are supposed to shell out 100 USD in demurrage for each trucker per day. "I have paid 114,000 USD in two months for 19 fuel tankers that were stranded," he said
Rahmatullah, an Afghan truck driver, says the custom officials at the border manufacture various pretexts to keep them stranded and extract money from them. "Our trucks and fuel tankers are regularly stopped at various ports. Custom officials get 100 USD from each truck or fuel tanker per day, which is a good source of money for them," he says. "We do not have any choice but to entertain their demands, otherwise we have to wait for several days or even months to cross the border."
Another trader, Mohammad Daud Ahmadzai from Logar, who imports PVC pipes from Turkey, Dubai and United States claims that the government of Pakistan uses transit route as a pressure tactic to force the Afghan government into submission.
"When political relations between the two neighbors are good, the traders from this side of Durand Line find the going easy; but when the strains develop in the political ties, Pakistani officials unleash the fury on poor traders and stop their trucks and goods," says Mr. Ahmadzai. "They use the transit route to settle the political issues."
The Pakistani officials, says Mr. Ahmadzai, stop the trucks and take lot of time in checking the containers, and consequently the traders have to pay high charges in demurrage. "It is safe to suggest that they do it deliberately because it is their gain and our loss," he adds.
The custom officials also check to see where the goods are coming from, says Mr. Ahmadzai. "If the goods are coming from Pakistan, then the hassles are less, but when we import goods from other countries, the Pakistani custom officials make life miserable for us," he says.
Last month, one of his trucks carrying goods worth 15,000 USD was stranded in Pakistan for several weeks. "I was asked to shell out 24,000 USD in demurrage so I had no choice but to leave the truck behind," says Mr. Ahmadzai. Abandoning trucks rather than paying high demurrage charges has become common among Afghan traders.
The problems, however, do not end at the border.
The Afghan traders face myriad challenges at home also, which includes lack of transit facilities and dilapidated roads that put their shipments in danger. "Due to lack of transit routes and railway lines, we find it difficult to travel from Mazar e Sharif to Kabul and other provinces," says Ghulam Farooq Farahi, an Afghan trader from Farah.
He says if in Afghanistan special transit routes and railway tracks connecting various provinces, many problems would be solved. "That would enable us ship products and goods to customers in less time and at reasonable prices," says Mr. Farahi.
Mohammad Afzal, who drives trucks on Kabul-Torkham and Karachi highway, has been driving on this busy highway for past 12 years, and the road between Torkham and Khyber Pakhtunkhwa gives him nightmares. "That is the worst stretch for any driver, and it takes several days to cross it," says Mr. Afzal. "If the road is paved well, the journey would take just one day."
Besides transit trucks, there is also a massive traffic of private and public transport vehicles on this narrow and dilapidated highway, which often leads to traffic accidents, "And add to that the concerns over security," he says.
Afghan traders face also face a lack of cargo and storage facilities in their country. Khan Jan Alkozai, deputy chief of Afghanistan Chamber of Commerce and Industries (ACCI), acknowledges the problem exists. At times when the trucks break down on highway, the miscreants take advantage of the situation and conduct robberies, he says.
If transit routes and railway tracks are constructed inside the country and the records in the Custom's department are computerized, the Afghan traders would be able to transport their goods to all provinces of the country, says Haji Nawab Abdul Rahim, a trader from Kandahar.
"If the provinces are connected well with each other through railways, we will be able to transport goods promptly to both local and international markets," says Mr. Rahim. "The people will be able to get the pomegranates from Kandahar at Hairatan Port and melons from Mazar e Sharif in Nangarhar province."
The railway construction project in Herat, Nangarhar, Khost, Hairatan, Kandahar and other provinces tremendously strengthen the Afghanistan's transit sector, according totrade analysts. They feel if the Afghan government lacks resources or manpower to carry out this ambitious project, Afghanistanshould enter into a partnership with private sector players.
Mohammad Younus Negah, advisor at ACCI, says traders and businessmen should jointly invest in this project and the government should ensure security and assign its revenues to the private sector for a specific period of time.
Afghanistan needs to establish 4,000 kilometer railway tracks inside the country to increase the connectivity between provinces and neighboring countries, says Mozamil Shenwari, deputy minister of Commerce and Industries. He says the government has signed transit cooperation agreements with some neighboring countries.
The government, he says, is planning to sign similar agreements with Turkmenistan and Uzbekistan in near future. He believes construction of railways would enable Afghanistan to export its goods to foreign countries in less time and at reasonable prices.
With the completion of railway projects, the International Road Transport (TIR) activities would be stepped up and Afghan traders would be able to directly export and import goods to and from European countries. Mr. Alkozai says the TIR system is not effective in Afghanistan because of transit related problems.
Under the TIR agreement, he says, a transit truck from Afghanistan begun its journey to Europe some months ago for the first time. But to improve the TIP system, he says Afghanistan should establish robust transit facilities at its ports and train professional employees from the Customs Department and Ministry of Commerce and Industries. Mr. Alkozai maintains that the establishment of transit facilities in Zaranj, Hairatan and Islam Qala ports requires 60 million USD investments.
Mosafer Qoqandi, spokesperson at Ministry of Commerce and Industries, said in February of this year they communicated their concerns about the problems faced by Afghan traders in Pakistan and also about the implementation of Afghanistan-Pakistan Transit Trade Agreement (APTTA) to Pakistani officials. "They promised to address the problem," he says. So far, the traders are finding little relief.
---
---
Related Articles
Afghan Ministry of Commerce & Industries (MoCI) have reported a 4% rise in Afghanistan's Qaraqul exports. With about 45,000 pieces
The Kabul municipality signed four contracts on Monday with an Arabic firm, Khateeb and Alami, to improve services of the
Afghan Ministry of Communication and Information Technology said Tuesday that five vocational institutes of the Ministry of Education will have