Transparency International launches anti-corruption program in Afghanistan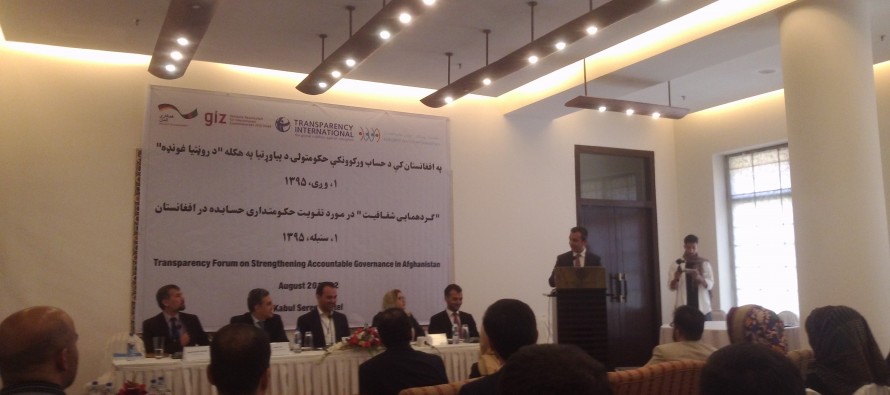 Transparency International officially launched its three years program for fight against corruption in Afghanistan.
The Afghan-German Cooperation is supporting Transparency International's commitment to Afghanistan, funding the establishment of the international program. International professionals are currently recruiting national colleagues for the new office in Kabul, Afghanistan.
Under the heading "Forging Accountable Governance Afghanistan", the event was attended by representatives from the Afghan government as well as national and international experts. They had the opportunity to discuss the right approach to hold Afghanistan's National Unity government accountable.
The German government supports this initiative due to Transparency International's extensive experience in countering corruption internationally.
Transparency International will closely monitor the National Unity Government. Thanks to targeted networking, public declarations and publishing, the NGO will contribute to ensuring the realization of the government's commitment facing corruption in Afghanistan. Thus, these organizations help promote civil society activities and public discussions.
Transparency International – the global coalition against corruption-was founded in 1993 as a non-governmental organization (NGO), committed to fighting corruption internationally. This NGO works together with civil society organizations, governments, businesses and citizens in more than 100 countries. Its ambition: prevent the abuse of power, bribery and secret deals.
On behalf of the German Federal Ministry of Economic Cooperation and Development (BMZ), the Afghan-German cooperation has been working together with the Afghan government to promote rule of law in Afghanistan. Since 2003, the project has been supporting the Ministry of Justice of Afghanistan in its efforts to ensure access to justice for all citizens. This is done through supporting better access to justice as well as improving the professional capacity of justice sector staff. At the same time, legal awareness of citizens is strengthened.
---
---
Related Articles
The refugees department in the eastern province of Nangarhar on Friday disturbed relief items to returnees in Kunar and Laghman
Ghazni officials reported that the production of wheat and some other grains in Ghazni has declined. "Constant droughts have resulted
Members of the Wolesi Jirga, the lower house of Parliament, on Saturday said changes to the proposed annual budget did