Turkish Afghan Mining Company to sponsor football club Mawjhai Amu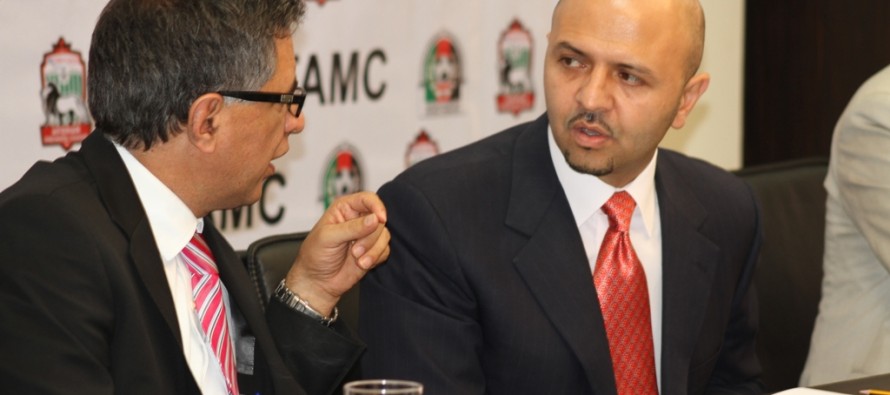 The Turkish Afghan Mining Company (TAMC) and the Afghan Premier League (APL) have agreed to sponsor one of Afghanistan's football clubs, Mawjhai Amu.
Mawjhai Amu represents the North East Region of Afghanistan, covering provinces of Badakhshan, Takhar, Kunduz and Baghlan. The team draws its name from the largest river in Afghanistan, the Amu River.
The team joined the league this season and has played two matches so far in this year's league.
"We are excited to welcome TAMC into our League and wish them great success in their involvement with Mawjhai Amu, one of this season's exciting new teams," said APL Commissioner Shafiq Gawhari during a press conference today in Kabul.
TAMC President Sadat Naderi found the sponsorship agreement "exciting" and "rewarding" for his company that is recently established.
"We wish the team the very best for this season and we look forward to working closely with their management and players to build upon their success over the next few years," said Naderi.
TAMC is an Afghan registered joint venture company established in 2012 between Afghan Gold and Minerals Company (AGMC) and Eti Gumus, one of Turkey's leading precious metal producers. With offices in central Kabul, TAMC was established to secure and develop the four gold exploration licenses in Badakhshan, covering an area of 1,000 square kilometer, with the aim to become a well-regarded and significant company in this region of Afghanistan, employing many thousands of Afghans.
---
---
Related Articles
The Kabul Bank defaulters are reportedly participating in the 'Smart City Township' which was inaugurated on Wednesday in capital Kabul.
The 1397 fiscal year budget was approved in principle during a meeting of the cabinet of ministers under the chairmanship
The Afghan-German Cooperation's Sport for Development (S4D) program handed over a wide range of sports material to ten girls schools