Turkmenistan, Ukraine willing to contribute to Afghanistan's socio-economic development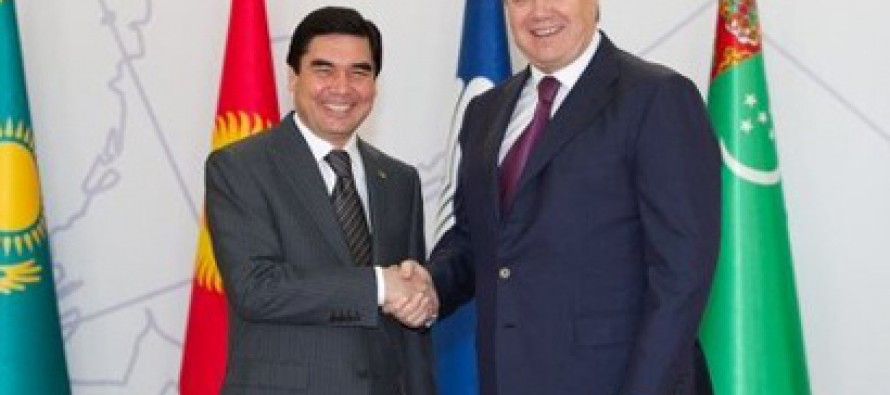 According to a joint statement by Turkmenistan's President Gurbanguly Berdimuhavedov and his Ukrainian counterpart Viktor Yanukovych, Ashghabat and Kiev are ready to contribute towards the socio-economic development of Afghanistan.
'The presidents noted the necessity to enhance bilateral and multilateral cooperation on regional security and stability, including promoting social and economic development of Afghanistan', the document says.
The parties also noted the similarity or identity of positions on key issues of international policy, confirmed their intention to strengthen mutually beneficial cooperation in the international arena, particularly within the UN, and other international and regional organisations.
In the context of Ukraine's chairmanship of the Organisation for Security and Cooperation in Europe (OSCE) in 2013, the heads of states exchanged views on its role in promoting peace and stability.
The two leaders reaffirmed their readiness to strengthen cooperation in combating terrorism, political and religious extremism, drug trafficking, illegal migration, transnational organised crime and illegal arms trade both at bilateral level and within the framework of relevant international organisations.
The document indicated cooperation in the energy sector as one of the priority directions of the development of bilateral relations.
Ukrainian companies, as previously reported are interested in the implementation of infrastructure projects of national importance in Turkmenistan such as gas pipelines and in particular the local East – West and international Turkmenistan – Afghanistan – Pakistan – India ( TAPI) projects.
Concerning the last project, Ashgabat has recently taken focused efforts aimed at its enhancement. In particular, Turkmenistan offered to host inter-Afghan peace talks under the aegis of the UN, due to Afghanistan's role as an important transit country.
In addition, in the spring of last year an agreement was signed with Islamabad and New Delhi for the sale of gas with a memorandum of understanding signed with Kabul. The formation of an international consortium is in progress.
Ashgabat believes that construction of the transnational gas pipeline, in addition to purely economic issues, will enable participating countries to solve a number of important social and humanitarian issues, including those related to the creation of new jobs, formation of transport and communications and social infrastructure along the gas main pipeline and will contribute towards the maintenance and consolidation of political and social stability in the region. (Trend)
---
---
Related Articles
Pajhwok Afghan News Weekly Price Report: Gold and fuel prices fell during the outgoing week in Kabul, where the rates of
The EU announced the agreement for new EU aid to Afghanistan aimed at supporting the health and agriculture programs worth
A 5-storey clothing store in Haji Jawzjani market in Northern Balkh province caught fire on Thursday morning. Officials said the