Two facilities inaugurated in Badakhshan University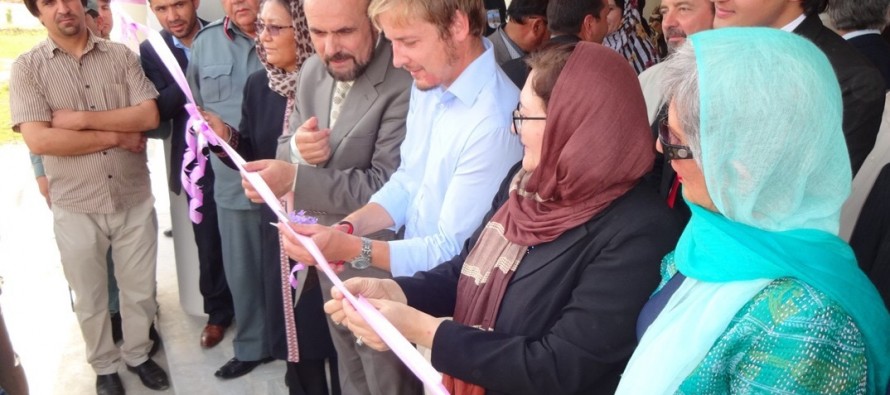 Two new facilities were officially opened today in Badakhshan University in Faizabad.
The university now has a new agriculture faculty and dining hall. Both of these facilities have long been priorities for the institution and the Ministry of Higher Education.
The overall construction costs for both facilities amounted to more than AFN 57 million, funded by the German government through KfW Development Bank, and implemented by the Aga Khan Foundation as part of the Stabilization Program in Northern Afghanistan (SPNA).
The Agriculture Faculty in Badakhshan University can now accommodate more than 500 female and male students and contributes to improving the quality of education for students and professors in Afghanistan.
The new dining hall, with its kitchens, can seat more than 200 students during meal times.
At the opening ceremony, Dr. Farida Momand, Minister of Higher Education, said, "The construction of the Agriculture Faculty and Dining Hall in Badakhshan University is a milestone for higher education across the nation, increasing the benchmark for a positive teaching and learning environment."
Mrs. Nurjehan Mawani, AKDN Diplomatic Representative, spoke of AKDN's strong commitment to higher education and professional development in Afghanistan. "AKDN has a valued collaboration with the Ministry of Higher Education and Badakhshan University through University of Central Asia and Aga Khan Foundation for essential skills development."
Dr. Shah Waliullah Adeeb, Governor of Badakhshan, said, "Badakhshan University is a priority for the province and to the country. I thank the Ministry of Higher Education, AKDN, and Afghan-German Cooperation in Afghanistan for their support in achieving the goals of this institution and beyond."
As part of Germany's program for stabilisation in northern Afghanistan, more than 260 infrastructure projects have been constructed in Badakhshan, Takhar, Kunduz, and Baghlan since 2010.
Besides construction work, SPNA also focuses on capacity development measures for district governors' offices and District Development Assemblies.
The program is currently planned until the end of 2017, aiming to improve access to education, healthcare and rural development services, as well as enhancing the capacity of key stakeholders at the district level.
The Stabilization Programme for Northern Afghanistan (SPNA) is funded by the German Federal Foreign Office through KfWDevelopment Bank and implemented by the Aga Khan Foundation, in partnership with Mercy Corps and ACTED.
---
---
Related Articles
Pajhwok Afghan News Weekly Price Report: Reversing an earlier dip, the Afghani edged up against the US dollar in Kabul
 Senior officials from the Governments of the United States and Afghanistan met Wednesday to continue their trade dialogue and evaluate
With a cost of more than 5,000,000Afs 8 sub-projects of the National Solidarity Program of the Ministry of Rural Rehabilitation