Two more suspects in the collapse of the Kabul Bank brought to the court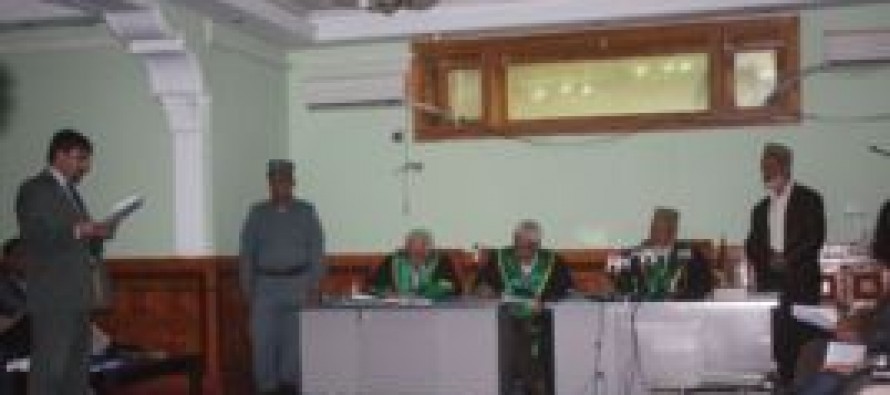 The second day of the prosecution on the fall of Kabul Bank was launched on Saturday.
Twenty-two people have been alleged for embezzlement of Kabul Bank money and only seven of them have attended the court to present their information to prosecutors.
Two more defendants presented their case to a special court in Kabul on Saturday.
On the first trial of the Kabul Bank case, which was held last week, five suspects were present at the court to respond to the questions of the prosecutors.
Masood Musa Ghazi, the New Kabul Bank chairman, who is accused of embezzling nearly USD 5mn during its initial stages of chairmanship, was one of the two suspects present at the court.
Mr. Ghazi called the charges baseless and said that the USD 5mn was drawn from the New Kabul Bank before his appointment to the office.
"The withdrawal of USD 5.8mn from the Kabul Bank did not occur in one transaction. It took place through various transactions starting on 30 August 2010, when I was still working at Da Afghanistan Bank (DAB). My last of working at DAB was 31 August 2010."
The second suspect present at the court was Mohibullah Safi, Deputy Head of DAB.
Mr. Safi accused the former Head of DAB, Qadir Fetrat, for the collapse of the bank, adding Mr. Fetrat put the matter out of sight.
Court officials said the case would last several days until the final verdict is declared.
Kabul Bank, Afghanistan's first private bank, nearly collapsed two years ago due to embezzlement of around USD 900mn by the shareholders of the bank.
Two of the top shareholders, Sher Khan Farnood and Khalilullah Feruzi, were arrested by the Afghan government for their involvement in the scandal.
Other convicted shareholders were President Karzai's brother, Mahmood Karzai, and brother of the deputy president, Hussain Fahim, who owed USD 19mn and USD 4mn respectively. According to the officials, they have returned the loans.
The Kabul Bank crisis dented not only the reputation of the banking system in Afghanistan but also raised concerns amid the international community who referred to the scandal as the Ponzi scheme.
The International Monetary Fund (IMF) postponed its funds to Afghanistan, which was later resumed subject to the settlement of the issues of the bank.
---
---
Related Articles
Afghan government has welcomed the Food Fortification Program of the Khalifa bin Zayed al Nahyan Foundation that is aimed at
The draft for next year's budget, with a total outlay of 366.2bn AFN, was submitted to the Senate for debate
Da Afghanistan Breshna Sherkat (DABS), Afghanistan's electricity company, has disconnected the power supply of some of the high-rank officials who