Two new flood protection walls for Shar-e-Burzug in Badakhshan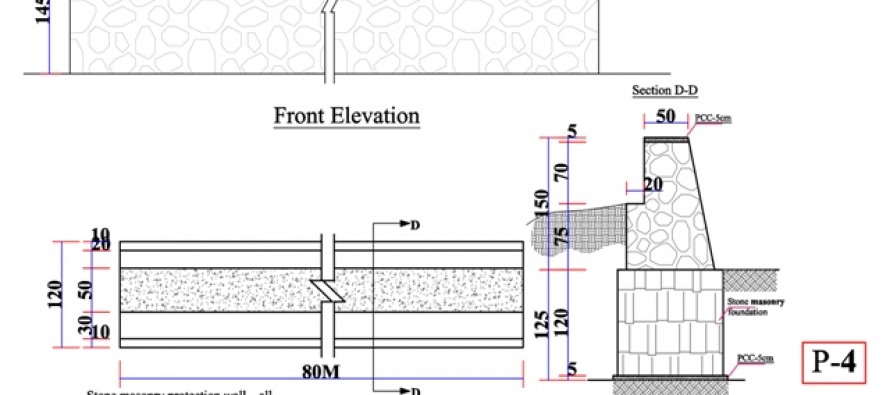 Construction work has officially started on protection walls for the villages of Khasar and Jagoni in Shar-e-Buzurg district, Badkahshan.
The building work will be managed by the community development councils (CDCs) in the villages. The total cost of over AFN 3 million is funded by the German government.
Addressing the inauguration ceremony, Governor Abdul Rahim Farhat, said, "One of the major challenges our communities face in Khasar and Jagoni is flooding from the mountains. The villages lack proper protection to protect their lands and they don't have irrigation canals to water their farmland properly. Every year, residents in these villages lose valuable farming income due to floods. The threat from natural disasters is very real here."
The district development assembly head, Faiz-ul-Rahman, and local elders of Shar-e-Buzurg added, "Another problem the people here have is that during floods, six villages are cut off from the marketplace and health centers, because the roads are blocked. Students cannot reach their schools either anymore." The official ceremony was joined by more than 100 representatives from district line departments, community development councils, community leaders, elders and religious leaders.
Khasar and Jagoni villages were chosen for the protection wall based on a risk map, which identifies the most vulnerable regions of Afghanistan.
Drafted by provincial and district authorities, the mapping process received support from the German government's project for preventing natural disasters in Badakhshan. Khasar and Jagoni villages were considered hotspots, and as a result, provincial and district authorities decided to build the protection walls in these villages. The construction work will be done in joint cooperation between communities, district and provincial authorities.
Addressing the challenges of major natural disasters in Badakhshan Province, including flooding, avalanches and earth quakes, Germany and Afghanistan agreed to implement the Badakhshan Natural Disaster Prevention (BNDP) project. The Provincial Governor's Office (PGO), the Department of Rural Rehabilitation and Development (DRRD) as well as the Afghanistan National Disaster Management Authority (ANDMA) receive support in developing risk maps for identifying hotspots for natural disasters and which communities are most vulnerable. Based on these findings suitable prevention measures are designed in four focus districts, including small infrastructure but also capacity development projects. BNDP is financed by the German Federal Ministry for Economic Cooperation and Development (BMZ) and implemented by Deutsche Gesellschaft für Internationale Zusammenarbeit (GIZ) GmbH.
---
---
Related Articles
Da Afghanistan Bank (DAB), Afghanistan's central bank, said strict measures have been taken to tackle smuggling of US dollar to
Nearly a hundred Afghan traders gathered on Monday at the Sher Khan Dry Port, where hundreds of their vehicles carrying
Afghan farmers have harvested 13 tons of saffron this year compared to last year's 10 tons, according to the Ministry