Two schools opened in northern Afghanistan with German support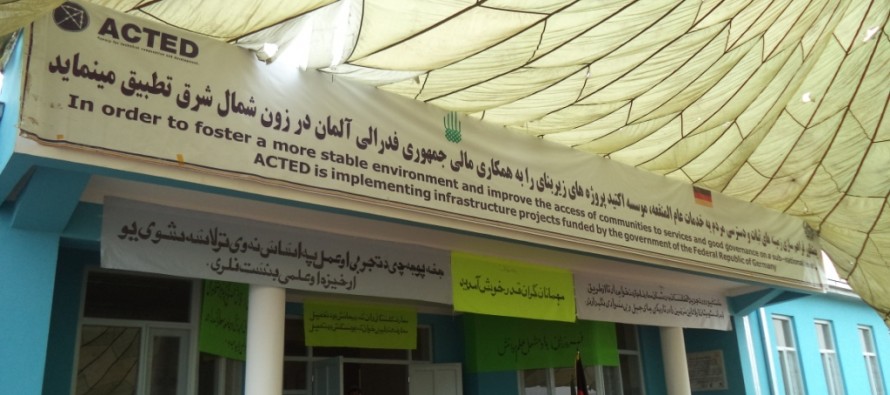 The Afghan-German cooperation inaugurated and handed over two newly built schools in Northern Afghanistan to the local governments: one school in Khaja-Ghar, Takhar and a second one in Aliabad, Kunduz this week.
The school in Takhar offers space to more than 370 children in the area. The new school in Aliabad is available to more than 1,300 students.
Until now, classes were taking place in tents in an open area – challenging for teachers and pupils. Lessons were affected by the cold, heat, wind, rain and snow. The new schools provide an environment that allows children of both Aliabad and Khaja-Ghar districts to receive sound education which will prepare them properly for the future. The new school buildings consist of fully furnished classrooms, administrative rooms and water wells that offer healthy drinking water to students and teachers. Furthermore, a boundary wall encircles each school, ensuring safety to all students and teachers.
A student in Aliabad highlighted: "Before the construction of the school building, we used to attend classes under very old tents. Because of the harsh wind, we had to fix these many times a week instead of enjoying education. In summer, it was very hot and we used to get sick. Some newly enrolled students even fainted because of sun. Moreover, we didn't have furniture and used to sit on the ground. The school was a boring place for us and our families were concerned for our safety. This discouraged many families to send their daughters to school. Now, we have proper classes, furniture within a secure place and many other facilities. And we no longer suffer the problems that we were struggling with for so many years."
The costs for the new school in Khaja-Ghar, Takhar amount to AFN 21.4 million and the school in Aliabad, Kunduz is built at a total cost of AFN 20mn with technical and financial support from the German government via the Stabilization Program for Northern Afghanistan (SPNA). The local District Development Assembly (DDA) and the Department of Education jointly decided to build these schools based on the District Development Plan (DDP).
The program SPNA is funded by the German Federal Foreign Office, managed by the German KfW Development Bank and implemented by the Aga Khan Foundation in partnership with the non-governmental organization Mercy Corps and the French Agency for Technical Cooperation and Development (ACTED). The entire program's budget amounts to more than AFN 7 billion for the period from 2010 to 2017, targeting the northern provinces ( Badakhshan, Takhar, Kunduz and Baghlan). So far, more than 250 small and medium sized infrastructure projects (most of them educational infrastructure) have been funded in 57 districts. In Takhar alone, 76 projects have been accomplished in 13 districts, including the provincial capital Taloqan. In Kunduz, 72 projects have been completed in six districts, including the provincial capital Kunduz city.
---
---
Related Articles
In a pilot program under the Ministry of Agriculture, some farmers in Nangarhar have switched from opium cultivation to saffron
Organic pomegranates, apples, saffron, melons, dried fruit, and nuts produced by more than 20 Afghan companies were on display on
The Ministry of Public Works plans to undertake five uplift projects in northern Baghlan and southeastern Khost provinces. The projects