U.S. government supports Afghan educators and future leaders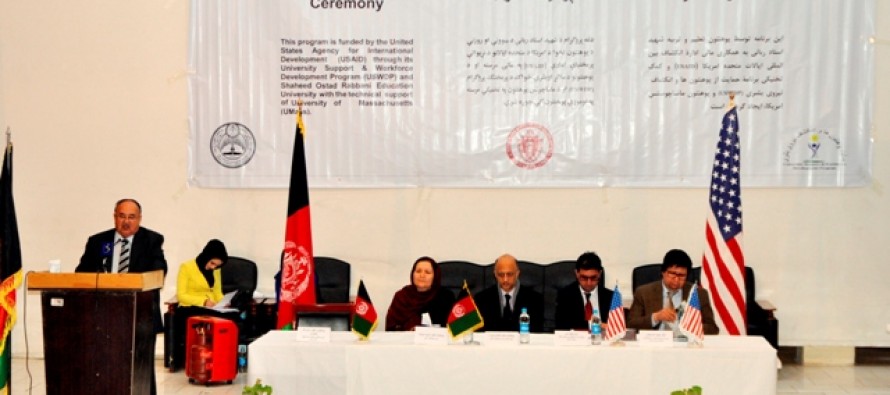 Minister of Higher Education Dr. Farida Momand announced a new advanced degree program at Shaheed Rabbani Education University that will develop and support the careers of teaching professionals, educational administrators, researchers and policymakers.
The United States Agency for International Development (USAID) through its University Support and Workforce Development Program (USWDP) supported the establishment of the Master of Educational Leadership and Management at the Shaheed Professor Rabbani Education University. USWDP along with its technical partner, University of Massachusetts at Amherst, developed the degree to meet international standards.
The master degree program started in October. Currently 24 students enrolled, 12 are women – after going through a competitive admission process consisting of English proficiency, subject matter tests and a robust interview. The students will graduate after completing 40 credits over a two-year program.
"Through this program, educators will be empowered to serve as change agents at policy and decision-making levels," said USAID Mission Director Herbert Smith, in a written statement "As the number of Afghan students in the education system continues to grow, the graduates of this master's degree program will ensure the quality of their education improves as well."
Dr. Momand thanked USAID for its continuing support for higher education. "This new Master of Educational Leadership and Management program will help build a strong and solid foundation so that Afghanistan's future educational system will fulfill the development needs of the country and its population," said Dr. Momand.
This new degree will expand educators' leadership and managerial capabilities and prepare educators to lead the organizations and contribute to improving the quality of education throughout Afghanistan.
USAID provides support for existing degree programs and also establishes new associate, undergraduate and graduate programs at the Kabul University, Kabul Polytechnic University and Kabul Medical University. USAID partners with the Ministry of Higher Education to support additional degree programs at Kandahar, Nangarhar, Balkh, Herat, Kunduz, Khost and Jowzjan public universities.
---
---
Related Articles
Afghan Public Works Ministry inaugurated a newly asphalted road in Chaghcharan, capital city of Ghor. The 13-km long and 8-m
The US Special Inspector General for Afghanistan Reconstruction (SIGAR) wrote in its latest report that banning women from working in
Management officials of oil and gas in Baghlan province has reported an increase of 21% in the revenues generated from