University of Central Asia holds Academic Achievement Ceremony in Faizabad for Afghan learners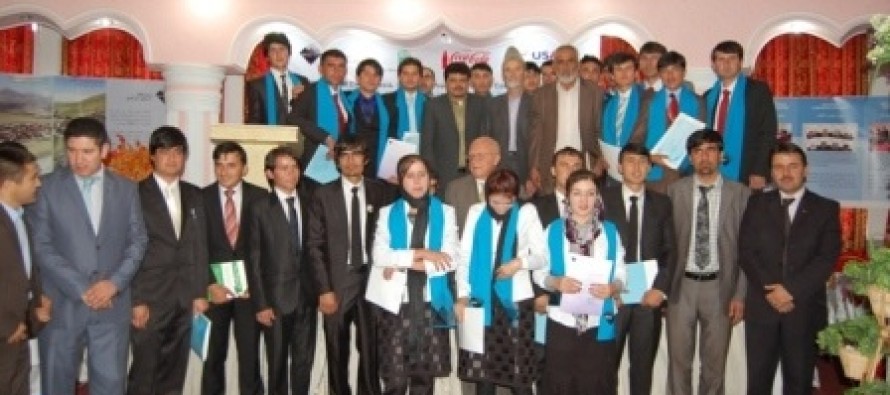 The University of Central Asia's (UCA) School of Professional and Continuing Education (SPCE) held an Academic Achievement Ceremony at the Kokcha Palace, Faizabad to recognise 18 Afghan instructors graduating from SPCE's professional development programs in English and Information Technology (IT). Seventeen Afghan scholarship recipients who successfully completed professional courses at SPCE Khorog in Tajikistan were also recognized.
The ceremony began with an overview of the University's involvement in Afghanistan since 2009. UCA's Director General, Dr Bohdan Krawchenko, congratulated the graduates and said, "This ceremony recognizes the efforts and individual achievements of SPCE learners, while celebrating a positive step toward building professional educational capacity within Afghanistan."
Among the chief guests were Dr. Gul Mohammadi Bedor, Deputy Governor of Badakhshan; Dr Abdul Ghafuri Furugh, Head of the Economic Directorate, Badakhshan; and Nematulloi Darkhoni, Academic Deputy Director of Badakhshan University.
"A few years ago, our delegation visited SPCE, Khorog. We discovered SPCE-UCA had a unique approach to preparing specialists. At that time, we dreamed of having SPCE provide similar opportunities in Badakhshan Afghanistan. Today, we witnessed this dream come true with around 1,390 Afghan students having completed SPCE courses and we hope this good work will continue in future."
Drawing on UCA's experience in providing continuing education and technical vocational programs for adults and civil servants in the Central Asian region. By working in partnership with local institutions, SPCE provides high-quality learning opportunities that help learners build critical skills and enhance their employability.  In northeastern Afghanistan, over 1,300 Afghans have completed SPCE programs in subjects such as English, Information Technology, and Accounting Technology. Recognizing that additional training for local instructors and teachers could increase access to these learning opportunities, SPCE launched a programs to support professional development of Government teacher training institutions and private education centers in rural provinces of Afghanistan in 2012.
The graduates included nine English instructors who completed lower intermediate level English courses, and nine IT instructors who obtained certification with the International Computer Driving Licence, an internationally recognized computer skills certification programme facilitated by SPCE. The programs were delivered by SPCE, in partnership with Aga Khan Education Service Centers in Badakhshan and the Teacher Training College (TTC) Shughnan, and with support from the Coca Cola Foundation.
"UCA provides unprecedented opportunity for students to go to SPCE Khorog to improve their knowledge and skills.  With this training, my classmates and I now have a solid command of the English language and computer programs," said graduate and English Instructor from TTC Shughnan, Shukebda Anwarbek.
Seventeen Afghan students from SPCE's Cross-border Vocational Programme (CVEB) were also recognized at the ceremony.  Eight had graduated from SPCE's Accounting Technology Certificate course, three from English for Academic Purposes and five from the IT Microsoft Office Specialist program. With support from the United States Agency for International Development (USAID), the CVEB program provides scholarships and instruction to students from Afghanistan and Tajikistan. Qualifying Afghan students attend basic and advanced courses in English, IT and Accounting, using specially developed Dari learning materials. So far, 160 scholarships have been awarded to Afghan students.
---
---
Related Articles
Dozens of residents of Herat, Ghor, Daikundi, Bamyan and Maidan Wardak protested in front of the national assembly, demanding the
The three-wheeled bike named Zarang has turned into a good source of income for poor families in Afghanistan. A number
The Afghan-German Cooperation's program for basic education (BEPA) and the Teacher Education Directorate (TED) jointly conducted a one-week training on