Unprecedented Yield in Badakhshan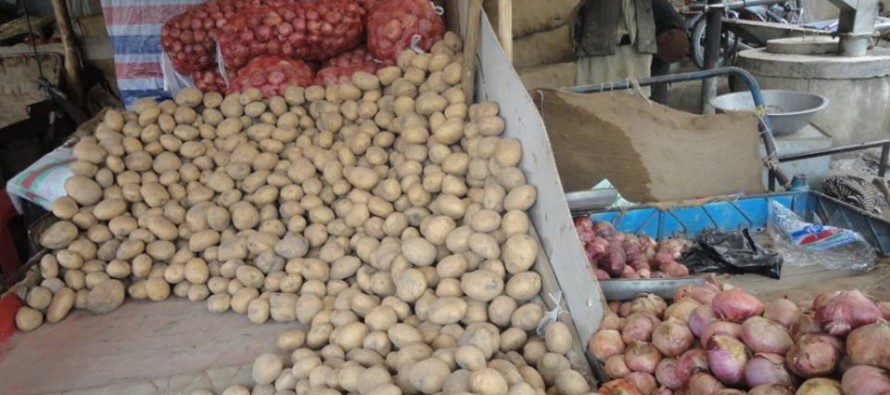 Supporting production of High Value Crops (HVC) such as potato and onion is an important area of work for CARD-F.
Over the past year, CARD-F supported 1400 farmers boost their yield of potato and onion by providing them with agricultural input, extension services and training in modern farming methods.
Haji Mohebullah is one of the beneficiaries. He says, "CARD-F's help has helped me in many ways. They gave me fertilizer, improved potato seeds and pesticides with protective clothing for myself when I use the pesticides."
"Training was also very useful," Haji Mohebullah adds. "We used to irrigate the land the wrong way. Now I know that irrigating before noon increases humidity and hurts the potatoes and I should instead do it in the afternoon when it is not very hot."
Careful environmental study has enabled CARD-F to identify the potential Badakhshan has for farming.
The intervention is designed to help farmers maximize their land productivity and evidently it has succeeded.
With an excitement in his voice, Haji Mohebullah says, "I have nearly one Jerib land (equal to 0.2 Hectare) and I have been farming potato in my land for a long time but the yield has never been this much."
"The taste of last year potatoes was much better. Also, I used to harvest just over 2000 Kilograms of potato from my farm but last year was very different. I yielded 5600 Kilograms of potato from my farm."
---
---
Related Articles
Pistachio yield in Badghis, Afghanistan's leading province for pistachio cultivation, has declined by 50%, officials have reported. Covering about 30,000
The annual revenue of western Herat province has increased to 19.98 billion afghanis ($385 million) in 2011, compared to 14.83
By Ahmadshah Ghanizada: The European Union (EU) has pledged €90.5 million in aid for rural development projects in Afghanistan, officials