Update on Afghanistan's dams and their power generation capacity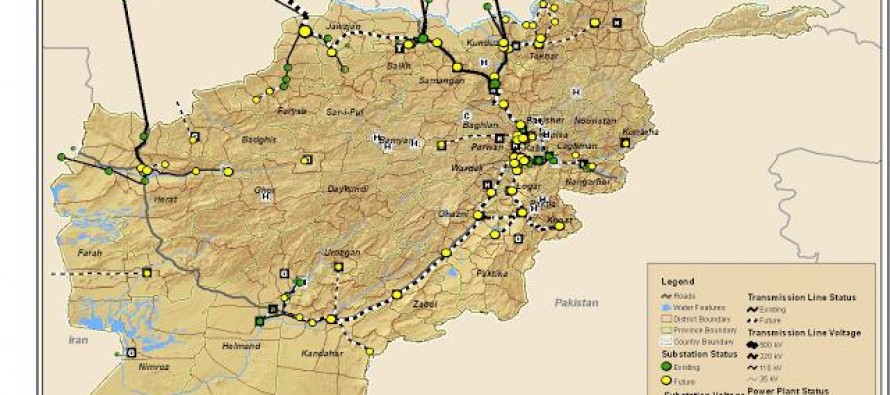 According to Da Afghanistan Breshna Sherkat (DABS), Afghanistan will need 3,000 MW of electricity by 2020 (less than 7 years). There are dams that can produce over 18,000 MW of electricity that you can read about here.
How much electricity is produced by Afghanistan's dams now?
Naghlu Dam in Nangarhar Province produces about 100 MW of electricity and began operating in 1967.
Kajaki Dam in Helmand was built in 1953. It is operated by the Helmand and Arghandab Valley Authority and produces about 33 MW. The dam is expected to produce 51 MW when rehabilitation is completed. The USACE has budgeted $205 million for the rehabilitation of the dam, part of this budget was awarded to Perini Management Services.
Salma Dam is in Herat and will open in December 2014 at a cost of $200 million. The contractor working on the construction is WAPCOS and the estimated output is 42 MW. Iran is attempting to stop the construction of this dam because it obstruct the flow of the river into Iran and in January of 2010, Iran killed the district governor ( Abdulqudo Qayam) who was supporting its construction
Breshna-Kot Dam in Nangarhar, which had a generating capacity of 11.5 MW
Darunta Dam near Jalalabad was built in 1964. It produces about 11 MW of electricity. USAID contracted ANHAM to rehabilitate the dam and the work is expected to be completed in January of 2012.
Puli Khumri was built in 1960 and produces 5 MW of electricity in Baghlan.
Grishk Dam is in Helmand Province and is operated by the Helmand Valley Authority. It produces about 2.4 MW of electricity and began operating in 1945.
Shah wa Arus Dam near Shakardara produces 1 MW of electricity. In March of 2012, Tablieh Construction Company and Alborz Sazeh Company were awarded a contract to repair the dam at a cost of $38 million.
In total less than 200 Megawatts of electricity is produced, but the rivers of Afghanistan have the capacity to produce much more according to these reports.
To view the map above please click here.
By: Masood Sattari
---
---
Related Articles
A delegation of 13 teachers including four females pursuing their Master Degree studies under Swedish Committee for Afghanistan's Teachers Educators
Mary Akrami is renowned for her inspirational and influential works in envisioning an equitable and peaceful society in Afghanistan. We
 Officials of the Public Health Ministry laid the foundation stone of the public hospital in Bamyan city. The Bamyan Provincial