US firms willing to invest in Afghanistan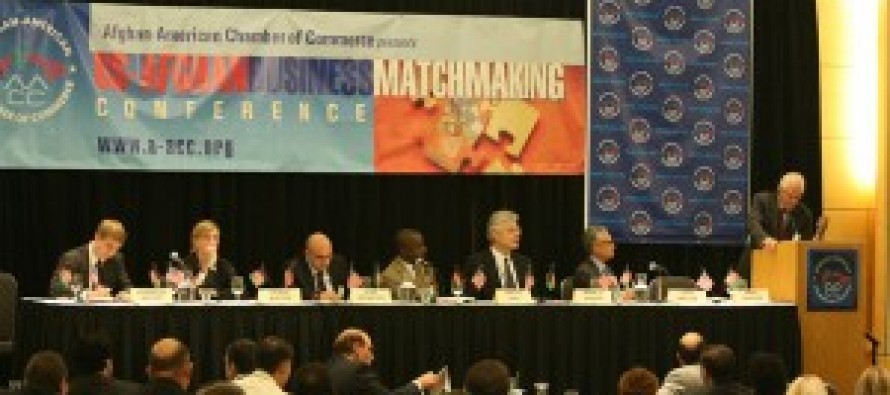 The 8th Annual US-Afghanistan Business Matchmaking Conference (BMC) was held in Washington D.C. from 02 December to 04 December.
The Conference was built on the successes of the previous conferences, which have provided many opportunities for Afghan firms to learn about U.S. companies interested in doing business in Afghanistan and for American firms to learn about the realities of business in Afghanistan.
Attended by top Afghan and US companies, the Conference was aimed at providing opportunities for leader among Afghan executive to meet their counterparts in U.S. business to discuss mutual activities.
Addressing the 8th Annual Conference, Deputy Assistant Secretary Holly Vineyard said the US government and the country's private sector is committed to stand with Afghanistan and assist Afghans with building a sustainable and strong economy, adding that American companies can offer Afghanistan much needed management experience, technology and investment.
As Afghanistan has entered the transition period, there is greater emphasis on the role of the private sector.
"In an era of transitioning out of heavy military engagement to a more civilian-supported economy, the central role of the private sector to create sustainable wealth, products and services and jobs for the Afghan people cannot be overestimated," said Sulaiman Lutfi, board chairman of the Afghan American Chamber of Commerce.
 Afghan Commerce and Industries Minister, Anwar-ul-Haq Ahadi, said Afghan government has taken series of steps including tax holidays or accelerated depreciation to investors to make the country an attractive haven for investment.
This year's Conference wsa held in cooperation with Afghanistan Chamber of Commerce and Industries (ACCI); Afghanistan Builders Association (ABA); Afghan Business Council-Dubai (ABC-Dubai); the Afghanistan Investment Support Agency (AISA); the Embassy of Afghanistan in Washington, D.C.; U.S. Department of States; U.S. Department of Commerce; U.S. Department of Defence and other U.S. and Afghan business and governmental leaders.
---
---
Related Articles
Takhar province's Department of Public Works (DoPW) officially inaugurated construction works for two kilometres of roadside ditches in the provincial
The Afghan-German Cooperation officially launched a new program for school construction in Badakhshan province. In cooperation with the Afghan Ministry
USAID on Wednesday hosted the Ministry of Mines and Petroleum (MoMP) and more than 80 private sector business leaders at