USAID Launches Anti-Harassment E-Learning Resource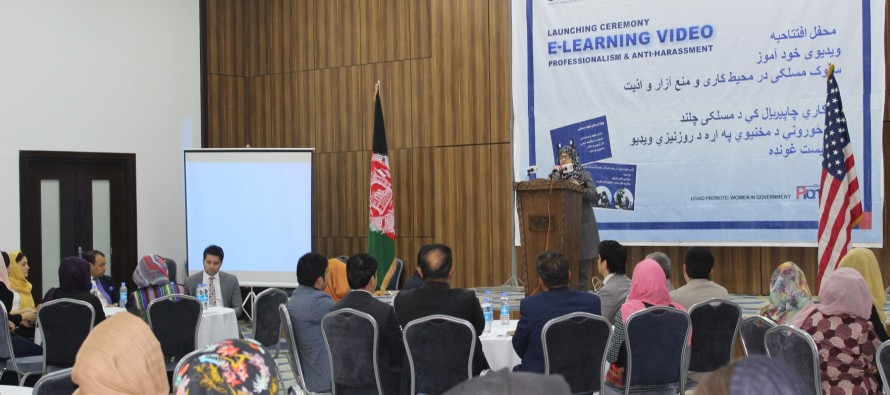 The U.S. government's Promote: Women in Government (WIG) project, funded by the U.S. Agency for International Development (USAID), launched the "Professionalism in the Workplace" e-Learning video.
The video will serve as a standard training tool for government workers who are responsible for workplace gender overnight canadian viagra equality, professional communication, and anti-harassment.
Promote works closely with Government of Afghanistan counterparts to cultivate a conducive-work environment for female civil service workers.
Since the start of the WIG project, USAID trained more than 3,000 women to serve in government, contributing to the Government of Afghanistan's larger effort to increase women's participation in the civil service to 30 percent. The project conducted extensive research to identify and mitigate the obstacles preventing cialis 20 mg women from joining the civil service, among them, the lack of professional conduct and persistent harassment. The e-Learning video will target these obstacles and seek to overcome them through training and awareness.
The e-Learning video is based on a standard WIG training curriculum that the project delivered to more than 200 current civil service employees what is a safe way to order levitra to build a culture of professionalism and anti-harassment. USAID produced the video in close collaboration with the Ministry of Women's Affairs.
More than 35 government representatives, who are cialis online canada no prescription committed to rolling out the video in their respective ministries and independent agencies, attended the launch event.
The Deputy Minister of the Ministry of Women's Affairs,  Spozhmai Wardak said, "[The Professionalism in the Workplace training] has been very effective. We decided to convert it into a video so that it can reach all of our employees. We cannot be effective and influential only through punishment. We can be more effective through awareness raising. I hope this video is used in all GIROA organizations."
Promote is comprised of four activities that are implemented specifically for women. The activities include leadership development, government employment, economic participation, and civil society advocacy. To date, Promote has supported over 50,000 Afghan women in more than 30 provinces nationwide.
---
Related Articles
Afghan Finance Minister Hazrat Omar Zakhilwal rejected the recent report by the Special Inspector General for Afghanistan Reconstruction (SIGAR) on
Afghan Ministry of Mines and Petroleum have reported about progress made in discussions on major investment projects worth USD 350
An Afghan businessman in Herat has invested USD 500,000 in scorpion form. This is the first time ever Afghanistan is