USAID launches leadership skills course for Afghan women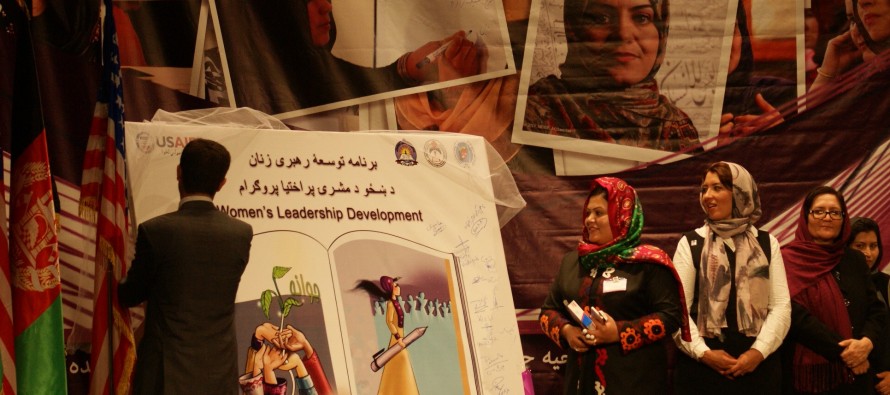 The U.S. Agency for International Development (USAID) PROMOTE program launched the Jawana women's leadership skills course with a ceremony at the Geology Faculty of Kabul University.
The young women, who have either a high school diploma, vocational school or university degree, are participating in a series of mentoring and practical activities, in order to develop the knowledge and skills that will lead to senior positions in government, the private sector and civil society.
One hundred Afghan women, between the ages of 18 and 30, attended the ceremony.
Guests included representatives from the Ministry of Women's Affairs, the Ministry of Higher Education, the Ministry of Education, Ministry of Labor, Social Affairs, Martyrs & Disabled, USAID, university students, members of women's civil society organizations, women and human rights activists and community representatives.
"This program will empower young women," said Dilbar Nazari, Afghan Minister of Women's Affairs. "They are honing their skills and building confidence in their ability to make informed decisions that lead to sustained social change in their homes, communities, and country." The program is conducted in close partnership with the Ministry of Women's Affairs and the Ministry of Higher Education.
Program participants were selected through an open and transparent process by a Participant Selection Committee comprised of eight professional men and women from government, civil society, public and private sectors. In the next two months, the program will be offered to over 800 women from Kabul, Jalalabad, Herat, Mazar-e-Sharif and Kandahar. By 2019, 18,000 high-achieving, young educated women representing all 34 provinces will have participated and honed their leadership skills.
"USAID is partnering with the Government of Afghanistan, the private sector and civil society to achieve what technology, ingenuity and progress have now made possible: An Afghanistan where the most vulnerable are lifting themselves up and contributing to a stable, resilient democratic society," said Lida Hedayat, USAID PROMOTE Women's Leadership Development Deputy Chief of Party.
PROMOTE is the largest USAID women's leadership program in the world. It will provide 75,000 young educated women the opportunity to acquire the skills they need to advance in Afghan society.
---
---
Related Articles
The agreement on economic and security cooperation between Afghanistan and Iran will be drafted within a month. This announcement was
On Saturday, 16th March 2013, a new building for the Department of Huquq of the Afghan Ministry of Justice was
The National Union of Afghanistan Workers strongly criticized the Afghan government for their inattention to the lives of mineworkers. At