USAID Recognizes Afghan Entrepreneurs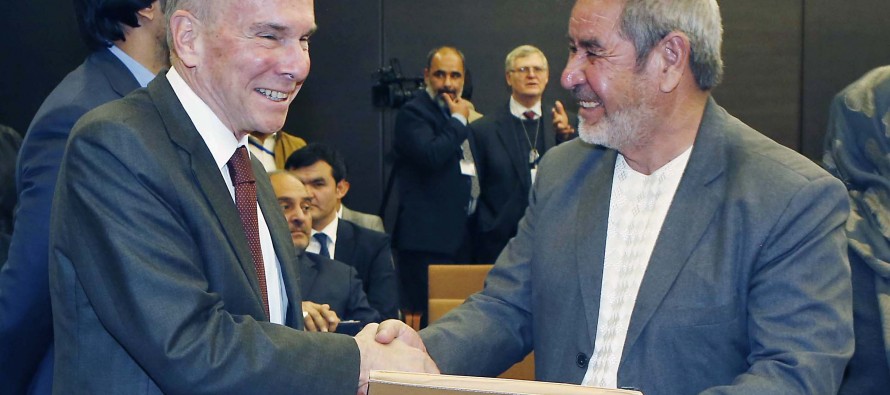 The United States Ambassador P. Michael McKinley and the Director of the Small and Medium Enterprise (SME) Development Directorate of the Ministry of Commerce and Industry; Ahmad Zia Sayed Khaili, recognized 34 Afghan small and medium enterprises that successfully completed investment partnerships with the U.S. Agency for International Development's Assistance in Building Afghanistan by Developing Enterprise (ABADE) program.
The ceremony took place at the United States Embassy on November 17, during the Global Entrepreneurship Week. Together, they have invested 46 million dollars in expanding their businesses to create 3,500 jobs in the Kabul area over the next several years. The 34 companies range from food manufacturing and agribusiness, clothing and furnishings production, construction materials production, metal fabrication, steel mills, to carpentry, digital printing and geoscience services.
ABADE's public-private alliances with Afghan small and medium-sized enterprises help reduce the risks involved with business expansion, sustain growth and create new jobs. Under the program, Afghan partners define their growth plans and commit their own financial resources to implement it; ABADE complements their investments by providing capital equipment and technical assistance needed for the new business activity.
"The fact that hundreds of Afghan firms are investing millions of dollars to expand business and create jobs is a testament to their faith in the future of Afghanistan's economy. Small and medium sized firms, investing in Afghanistan represent the country's best hope for growing the economy and employing its citizens," said Ambassador McKinley at the ceremony, which was attended by USAID's Deputy Mission Director John Cardenas; Mr. Ahmad Zia Sayed Khaili, Director of the SME Directorate, Ministry of Commerce and Industry; representatives of the Afghanistan Investment Support Agency, and Afghan small and medium enterprises.
ABADE is a $105 million project that runs from October 2012 to October 2016. Up to now, it has developed more than 260 public-private alliances with Afghan SMEs with a combined value of over USD 218 million, resulting in increased sales and employment.
---
---
Related Articles
Afghan Teacher, Azizullah Royesh, has made it to the top 10 finalists for Global Teacher Prize of Varkey Foundation. Royesh
The US Special Inspector for Afghanistan Reconstruction (SIGAR) in its latest report has warned of corruption that has threatened functioning
The European Union will aid 60mn EUROS to the Afghan government for the purpose of good governance and justice. Of