USAID signs MoU with Ministry of Justice to improve access to services for Afghan people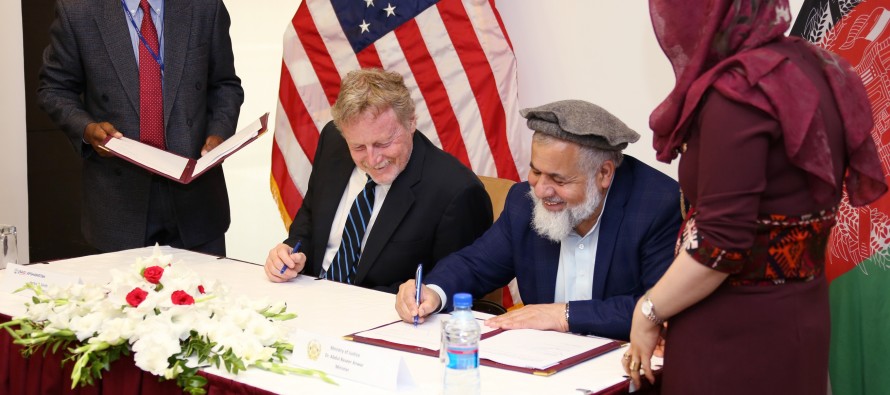 In Afghanistan, traditional dispute resolution (TDR) mechanisms remain popular among citizens due to their low cost, accessibility, and community trust in finding quick solutions to legal disputes. However, these traditional mechanisms are often at odds with the Afghan Constitution and Sharia law and often violate basic rights.
In April 2016, the United States Agency for International Development (USAID) launched the Assistance for the Development of Afghan Legal Access and Transparency (ADALAT) to improve citizen access to quality justice services by increasing effectiveness and reach of the formal justice sector, strengthening linkages between the formal and traditional justice sectors, and increasing citizen demand for quality legal services.
Today, officials from the US Embassy, USAID/ADALAT and the Ministry of Justice signed a Memorandum of Understanding (MoU) at the US Embassy in Kabul. The MoU will serve as a guiding document between USAID/ADALAT and the MOJ that outlines responsibilities and commitments of both parties.
"The ADALAT program is a major step forward for the Afghan people to have a fair and just legal sector that will recognize their basic and fundamental rights," said USAID Mission Director Herbie Smith. "I applaud the efforts of the Ministry of Justice to work with USAID in this endeavor to provide their citizens access to the legal process."
"The ADALAT project will improve human resources capacity in Huquq Directorate and simplify legal processes to provide better legal services for Afghans," said Minister of Justice Abdul Basir Anwar. "The technical assistance and training provided by ADALAT will also help the Ministry of Justice and its counterparts to expand their legal services coverage in Afghanistan and improve transparency in justice sector."
ADALAT and MoJ institutions are working closely together to increase the professionalism of justice sector actors, improve judicial administrative and management systems, and to strengthen the MoJ's Huquq Department and its interaction with traditional justice actors.
---
---
Related Articles
Shamila Kohestani, the former captain of the Afghan Women's National Football Team, has launched a YouTube channel where she teaches
Herat officials reported that 90% of work on the Herat-Iran railway is completed. Work on the rail line that connect
With a cost of more than 13,867,000 AFN, 7 projects of the National Solidarity Program of the Ministry of Rural