Uzbekistan offers deal in exchange for Nato trucks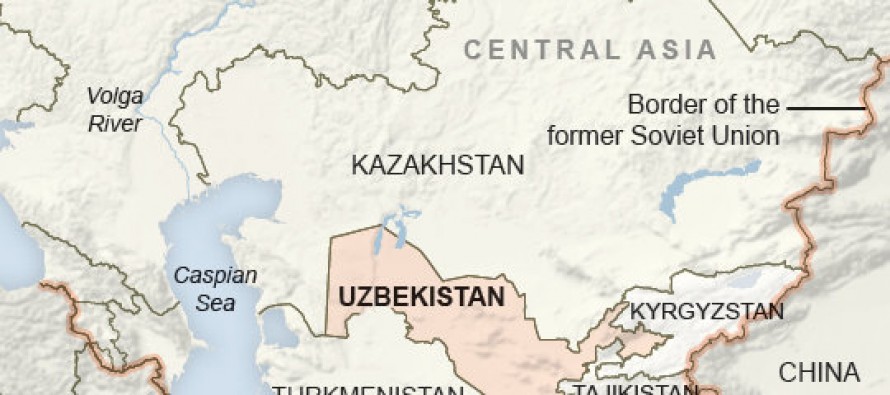 The New York Times-With planning for the Western military withdrawal from Afghanistan in full swing, officials in Uzbekistan want to make a deal: we will provide the roads out if you leave some of those extra vehicles and supplies behind for us.
Uzbek officials have quietly contacted American, German and British officials with the offer, in their latest bid to supplement their military despite international embargoes, according to officials in NATOcountries, human rights advocates and German news reports. On the wish list are armored vehicles, mine detectors, helicopters, navigation equipment and night-vision goggles — used and dusty would be fine.
It is a proposal that has won the attention of Western capitals and that is said to have annoyed the Kremlin enough that it is pushing through an arms deal with Uzbekistan's neighbor, Kyrgyzstan.
"The Uzbeks see this as their window of bargaining leverage," Alexander Cooley, a professor at Barnard College and an authority on the former Soviet states of Central Asia, said in a telephone interview. Both Uzbekistan and Kyrgyzstan were once Soviet republics.
Uzbekistan is ranked as the sixth most corrupt country in the world by Transparency International and has been banned from most arms purchases in Europe and the United States since political prisoners were discovered to have died in detention a decade ago from scalding water — from, in fact, being boiled alive.
But what Uzbek officials are offering, however, has value. Over the next two years, NATO forces are expected to remove about 70,000 vehicles and 120,000 shipping containers from Afghanistan, and the way out will require rail lines and well-surfaced roads.
Although Pakistani ports are seen as the most efficient avenue for the cargo's withdrawal, alternatives will be important, and allied officials are mindful of a potential disruption if Pakistan ever decides to again close the routes or ask for more money, as it did during a diplomatic crisis with the United States in 2011 and 2012.
The United States government has taken the Uzbek proposal seriously enough to partially lift a set of arms sales restrictions that have been in place for about a decade. And it has held interagency meetings in Washington this month to consider the latest Uzbek proposal, according to nongovernmental experts on American policy in the region.
The Uzbek request illustrates the difficult logistics of winding down the war, an unglamorous coda to a fight that began with troops parachuting in out of the night sky.
As was the case in the withdrawal from Iraq in 2011, the cost of shipping used equipment to the United States often exceeds its value. The Army left tens of thousands of air-conditioned residential trailers in Iraq, and many of the armored vehicles that were rolled across the border into Kuwait were mothballed there.
A legacy of abandoned weapons is a common one in battle zones, including Afghanistan, which became a bustling secondhand arms bazaar after the Soviet pullout in 1989.
The State Department issued a statement saying that it was "premature to speculate on plans for any transfer of excess equipment, or even what equipment may be declared excess" after the withdrawal, but it clarified the parameters for any potential deals with Central Asian countries. "Only equipment deemed in excess of operational needs by the Department of Defense would be provided to foreign countries, including Northern Distribution Network host nations in Central Asia," the statement said, referring to the name of the northern supply lines into Afghanistan.
Delighted with that possibility, the Uzbeks have been broadening the scope of their demands, said a senior American official directly involved in the diplomacy of the Afghan logistical routes, who spoke on the condition of anonymity to discuss the delicate negotiations.
The requests have gone from relatively common items like night-vision goggles to large and expensive American-made goods like MRAP vehicles, the 14-ton armored utility trucks that help protect troops from roadside bombs.
Other items that the Uzbeks have eyed in the American arsenal in Afghanistan are small arms, mine detectors, navigation equipment and possibly drones, according to Der Spiegel, the German newsmagazine, suggesting that the Uzbeks are looking at the pullout next year as a sort of everything-must-go moment for military shopping.
The government is trying to broaden its scope beyond Russian military equipment standards, lest Uzbekistan be beholden to Moscow in regional conflicts over water rights or border enclaves with its neighbors.
In December, Uzbekistan pulled out of Russia's regional security bloc, the Collective Security Treaty Organization, as it stepped up its requests for Western weapons. Russia responded by offering a $1 billion arms deal to Kyrgyzstan.
Against the backdrop of its dispute with Moscow, the Uzbek government is said to have quietly conveyed its requests for military surplus to officials from NATO countries.
After years of watching helicopters fly in and out of Termez airfield, which is used as a German base in Uzbekistan, the government in March told Germany's defense minister, Thomas de Maizière, who was visiting, that it would not mind getting its hands on a few of them, the newspaper Frankfurter Allgemeine Zeitung reported.
A British delegation passed through in July. On the diplomatic agenda between the two countries, according to Craig Murray, a former British ambassador to Uzbekistan and now a critic of British policy in the region, is the handover of used Land Rovers or other military vehicles as partial payment for shipping out other items.
Such talks have alarmed members of the German Parliament, who requested clarification from their government.
"Either the Uzbeks want money, and quite a lot, or they want weapons," Viola von Cramon, a member of Parliament, said in a telephone interview. "What I've heard from informed sources is they are not interested in civil assistance, or anything progressive like university exchanges. It's really hard in that respect. They really prefer the military sector."
Human rights groups harbor apprehensions at the thought of a second life for Western military hardware in Uzbekistan.
"Uzbekistan has one of the most abysmal and atrocious records of any of the countries we work on here at Human Rights Watch, which is well over 100 countries," Steve Swerdlow, the group's Central Asia researcher, who was expelled from Uzbekistan in 2010, said in a telephone interview.
In one horrific episode, the Uzbek military fired on protesters in a public square in Andijon in 2005, killing as many as 745 people, according to an opposition party. And the nation's economy depends heavily on the forced labor of children and adults in cotton fields.
While Western militaries still deal with Uzbekistan, more than 100 apparel brands, including H & M, Gap and Walmart, have signed a pledge not to buy Uzbek cotton.
---
---
Related Articles
A mega power network with power pylons carrying 500 megawatts of electricity is being established in northern Jawzjan province. The
United States Ambassador P. Michael McKinley, on behalf of the United States Agency for International Development (USAID), presented the Afghan
If water is controlled, Afghanistan will be self-sufficient in agriculture and electricity generation The Ministry of Energy and Water says