Villagers Host First Midwife Training in Zengabad Region, Panjwai District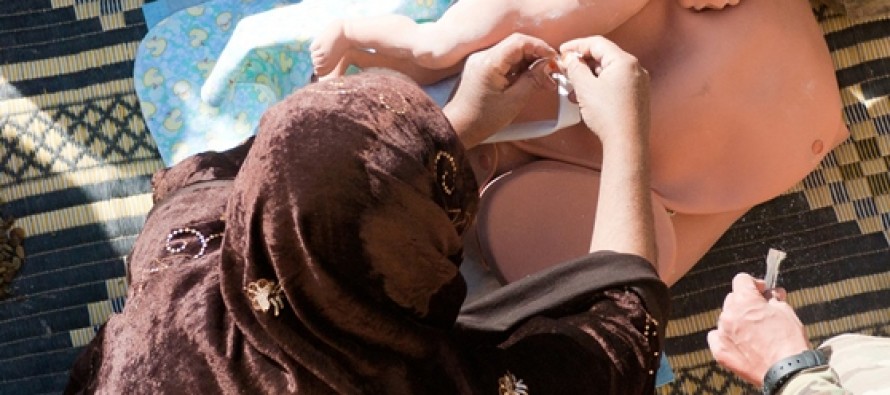 Another Afghan child dies. "On a night the roads were really dangerous, one of our women experiencing a difficult pregnancy couldn't leave her house and her husband didn't know what to do," said an Afghan female at buy levitra cheap us the training. "That woman lost her baby."
In order to reduce infant deaths fourteen Afghan women received midwife and emergency birth attendant training for the first time in the Zengabad region, in western Panjwai district, Kandahar province, Feb. 28. The training event is a partnership between Government of the Islamic Republic of Afghanistan and Coalition Forces aimed at lowering maternal and infant mortality rates, and improving the quality of life in Afghanistan.
Students received classroom and practical instruction on basic prenatal care, warning signs in pregnancy, emergency birth procedures, warning signs in newborns, and basic newborn care during an intensive one-day program conducted by a U.S. Army Nurse-Midwife and combat medic team.
"This type of instruction is very important because it's the countryside of Afghanistan. If someone gets sick over here, often they don't have transportation to get somewhere quickly," said village Malik Ahmad Shah. "The closest clinic would be in the city and that's a 2-hour drive. So it's very good to train people here. If a woman is pregnant she could die, but if there is someone trained nearby they could help her out right here."
The women learned vital midwife skills they can share with other females in the absence of a doctor or certified midwife, skills that will help decrease the maternal and infant mortality rates in their country.
"The biggest success was not only taking the training to local Afghan women on their terms but more importantly that maybe now one or two women and their babies won't die in childbirth, which is a huge success," said a U.S. Army Nurse-Midwife. "Saving one life is always a huge success."
The women seemed grateful for the opportunity to learn and were actively engaged in the class. Each of them received basic delivery kits containing items to help with childbirth, such as receiving blankets, gloves and a bulb syringe.
"Many of us don't really have any midwife experience. We thought it was kind of funny at first with the plastic woman (training aid)," said an Afghan woman. "But in the end I felt the training was really great and now I feel more confident to help others in the future because of the instruction and hands-on practice with the 'dummy.' I'll be better prepared next time."
Women and children received treatment for many healthcare issues including three prenatal exams immediately following the training.
"We were scared to go out because it is too dangerous for us to leave our homes. So we are very grateful and happy you came to teach us," said one female student.
Village Malik Ahmad Shah expressed his gratitude and support for the midwife training.
---
---
Related Articles
The first pistachio processing factory in Badghis was inaugurated last week in the presence of local government officials and business
The US Ambassador to Afghanistan Michael McKinley addressed several Afghan journalists on Wednesday and assured that the US-Afghan relations will
Turkmenistan continues construction work on the Afghanistan-Turkmenistan-Tajikistan highway, reports Neutral Turkmenistan newspaper. According to the source, the work on the